Human serum albumin templated MnO2 nanosheets are oxidase mimics for colorimetric determination of hydrogen peroxide and for enzymatic determination of glucose
Abstract
This paper reports on a colorimetric assay for H2O2 and glucose. It is based on the use of human serum albumin-templated MnO2 nanosheets that possess oxidase-like activity. They are capable of oxidizing 3,3',5,5'-tetramethylbenzidine (TMB) with oxygen to give a blue product (oxTMB) with an absorbance maximum at 652 nm. When H2O2 is introduced, the MnO2 nanosheets are reduced to Mn(II) ions, and this inhibits the formation of oxTMB. Based on these findings, a colorimetric assay was established for H2O2 that has a 0.56 μM detection limit. If glucose is oxidized by glucose oxidase under formation of H2O2, the nanosheets can be used to quantify H2O2 and thereby to sense glucose. Response is linear in the 0.5 μM to 50 μM glucose concentration range, and the detection limit is 0.32 μM. The method was applied to the determination of glucose in spiked serum samples and gave satisficatory results.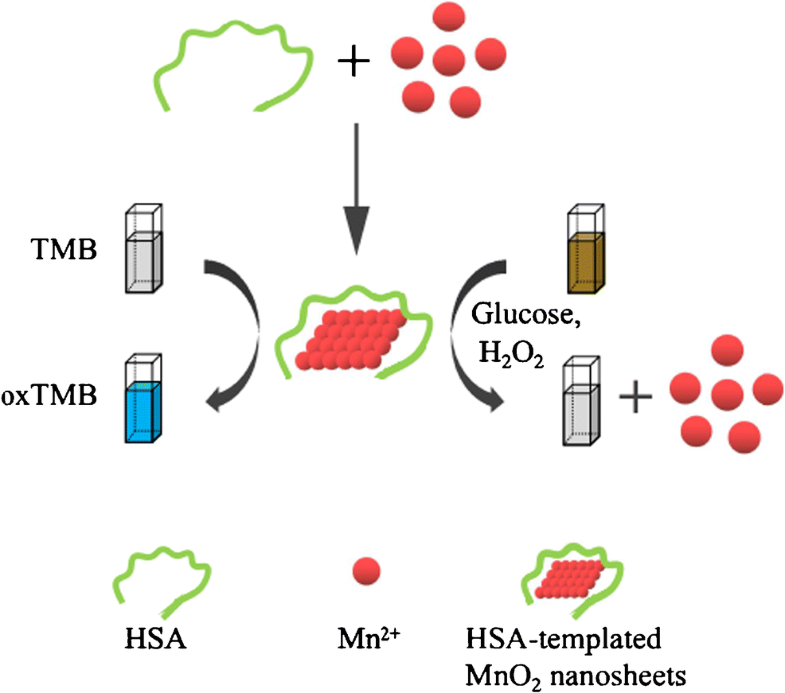 Keywords
HSA 
Optical sensor 
Colorimetric assay 
Glucose oxidase 
3,3 ́,5,5 ́-Tetramethylbenzidine 
Human serum 
Notes
Acknowledgements
This work was supported by the National Natural Science Foundation of China (21505122), and the Outstanding Young Talent Research Fund of Zhengzhou University (1521316003), the Foundation for University Key Teacher by Henan Province (2017GGJS007), and the Key Scientific Research Project in Universities of Henan Province (19A150048).
Compliance with ethical standards
The author(s) declare that they have no competing interests.
Copyright information
© Springer-Verlag GmbH Austria, part of Springer Nature 2018