Diphenyl diselenide grafted onto a Fe3O4-chitosan composite as a new nanosorbent for separation of metal ions by effervescent salt-assisted dispersive magnetic micro solid-phase extraction
Abstract
Diphenyl diselenide was immobilized on chitosan loaded with magnetite (Fe3O4) nanoparticles to give an efficient and cost-effective nanosorbent for the preconcentration of Pb(II), Cd(II), Ni(II) and Cu(II) ions by using effervescent salt-assisted dispersive magnetic micro solid-phase extraction (EA-DM-μSPE). The metal ions were desorbed from the sorbent with 3M nitric acid and then quantified via microflame AAS. The main parameters affecting the extraction were optimized using a one-at-a-time method. Under optimum condition, the limits of detection, linear dynamic ranges, and relative standard deviations (for n = 3) are as following: Pb(II): 2.0 ng·mL−1; 6.3–900 ng·mL−1; 1.5%. Cd(II): 0.15 ng·mL−1; 0.7–85 ng·mL−1, 3.2%; Ni(II): 1.6 ng·mL−1,.6.0–600. ng·mL−1, 4.1%; Cu(II): 1.2 ng·mL−1, 3.0–300 ng·mL−1, 2.2%. The nanosorbent can be reused at least 4 times.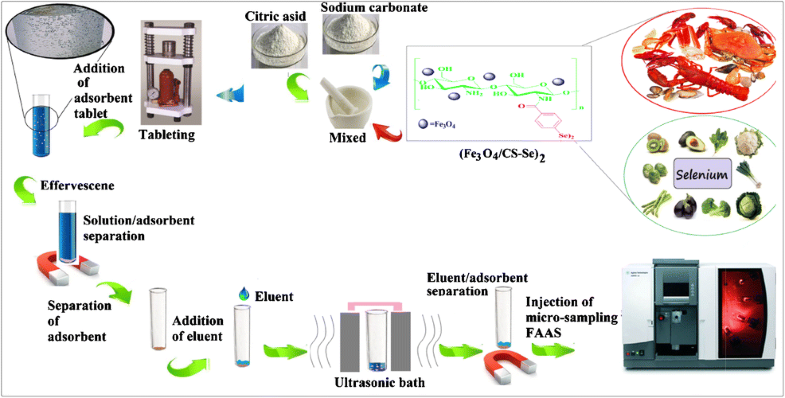 Keywords
Selenium 
SPE method 
Magnetite 
Pb(II) 
Cd(II) 
Ni(II) 
Cu(II) 
Notes
Acknowledgments
The authors would like to thank the Semnan University Research Council for the financial support of this work.
Compliance with ethical standards
The author(s) declare that they have no competing interests.
Copyright information
© Springer-Verlag GmbH Austria, part of Springer Nature 2018