A triazine based organic framework with micropores and mesopores for use in headspace solid phase microextraction of phthalate esters
Abstract
A dual-pore covalent organic framework (COF) that contains micropores and mesopores was prepared from 2,4,6-triphenoxy-1,3,5-triazine (TPT). A building block is used in which double linking sites were introduced at each branch of a C3-symmetric skeleton. The COF is shown to be a viable coating for fibers for solid-phase microextraction of phthalic acid esters (PAEs). Its high specific surface, high hydrophobicity, and wide pore size distribution of a TPT-COF coated fiber result in extraordinarily powerful extraction of PAEs. The enrichment factor is up to 7790 under optimum conditions. The method has detection limits that range between 5 and 95 ng L−1. The inter-batch relative standard deviations are between 3.1 and 10.9%, and those for intra-batch assays are from 0.8 to 4.7%. The TPT-COF coated fibers were applied to the extraction of PAEs from (spiked) juice samples, and satisfactory recoveries were achieved.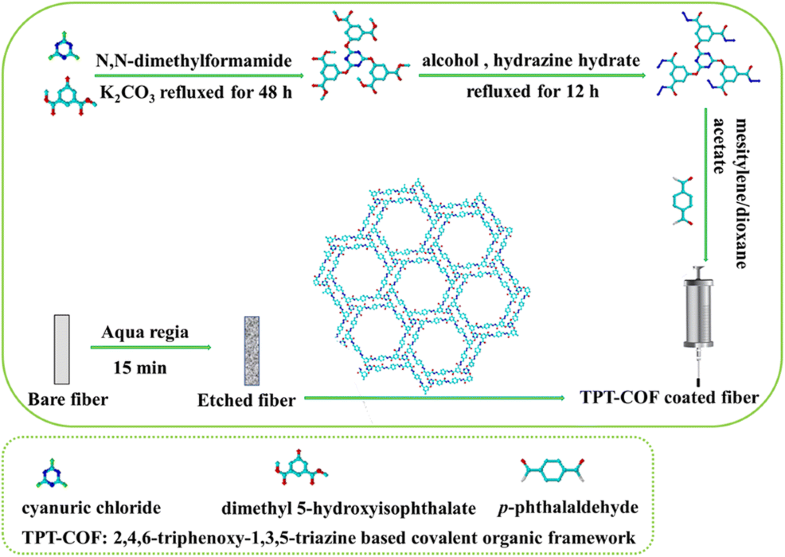 Keywords
Covalent organic framework 
Multiple-linking-site 
SPME 
Gas chromatography 
Notes
Acknowledgements
The project was supported by Open Project of State Key Laboratory of Supramolecular Structure and Materials, Jilin University, China (sklssm201815).
Compliance with ethical standards
The author(s) declare that they have no competing interests.
Copyright information
© Springer-Verlag GmbH Austria, part of Springer Nature 2018