Electrochemical determination of dopamine and uric acid using a glassy carbon electrode modified with a composite consisting of a Co(II)-based metalorganic framework (ZIF-67) and graphene oxide
Abstract
A composite was prepared from a Co(II)-based zeolitic imidazolate framework (ZIF-67) and graphene oxide (GO) by an in situ growth method. The material was electrodeposited on a glassy carbon electrode (GCE). The modified GCE was used for the simultaneous voltammetric determination of dopamine (DA) and uric acid (UA), typically at working potentials of 0.11 and 0.25 V (vs. SCE). The morphology and structure of the nanocomposite were characterized by scanning electron microscopy, transmission electron microscopy, Fourier transform infrared spectroscopy and X-ray diffraction. The modified electrode exhibits excellent electroanalytical performance for DA and UA owing to the synergistic effect of the high electrical conductivity of GO and the porosity of ZIF-67. By applying differential pulse voltammetry, a linear response is found for DA in the 0.2 to 80 μM concentration range, and for UA between 0.8 and 200 μM, with detection limits of 50 and 100 nM (at S/N = 3), respectively. Further studies were performed on the effect of potential interferents, and on electrode stability and reproducibility. The modified GCE was applied to the simultaneous detection of DA and UA in spiked human urine and gave satisfying recoveries.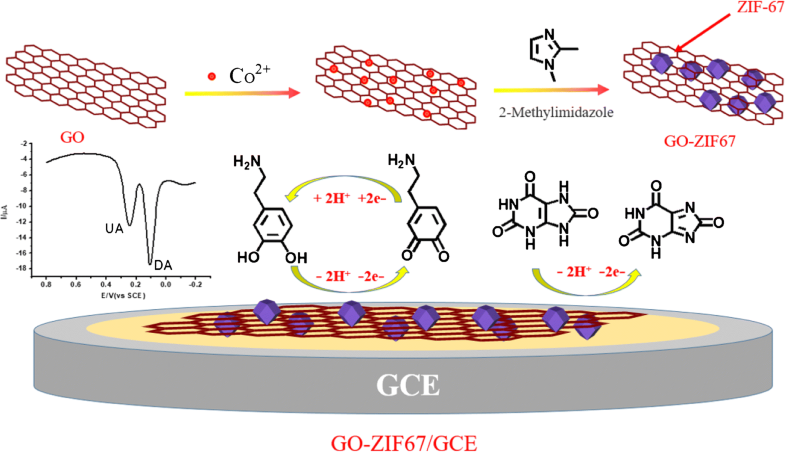 Keywords
Nanocomposite 
Scanning electron microscopy 
Transmission electron microscopy 
Fourier transform infrared spectroscopy 
X-ray diffraction 
Cyclic voltammetry 
Differential pulse voltammetry 
Electrochemical sensor 
Human urine 
Notes
Acknowledgements
This work was supported by the National Nature Foundation of Anhui Province (Grants 1808085 MB31), the Project of Education Department of Anhui Province (KJ2017A506), the key discipline of Anhui Science and Technology University (AKZDXK2015A01) and the Student's Platform for Innovation and Entrepreneurship Training Program of China (201810879020).
Compliance with ethical standards
The author(s) declare that they have no competing interests.
Copyright information
© Springer-Verlag GmbH Austria, part of Springer Nature 2018