Graphene oxide wrapped with gold nanorods as a tag in a SERS based immunoassay for the hepatitis B surface antigen
Abstract
A composite consisting of graphene oxide and gold nanorods (GO-GNRs) was designed for the trace determination of hepatitis B surface antigen (HBsAg) using surface enhanced Raman spectroscopy (SERS). GO contains numerous carboxy and hydroxy groups on its surface and therefore can serve as the substrate for decoration with GNRs and for immobilizing antibody against HBsAg. The GNRs (carrying the SERS probe 2-mercaptopyridine) exhibit high SERS activity, and this improves the sensitivity of the biosensor. The antibody on the GO-GNRs binds HBsAg with high specificity, and it results in excellent selectivity. The SERS signal (measured at 1002 cm−1) increases in the 1–1000 pg·mL−1 HBsAg concentrations range, and the limit of detection is 0.05 pg·mL−1 (at an S/N ratio of 3). The immunoassay achieves the sensitive and selective determination of HBsAg in serum and expands the potential application of GO-GNR based SERS tag in clinical research.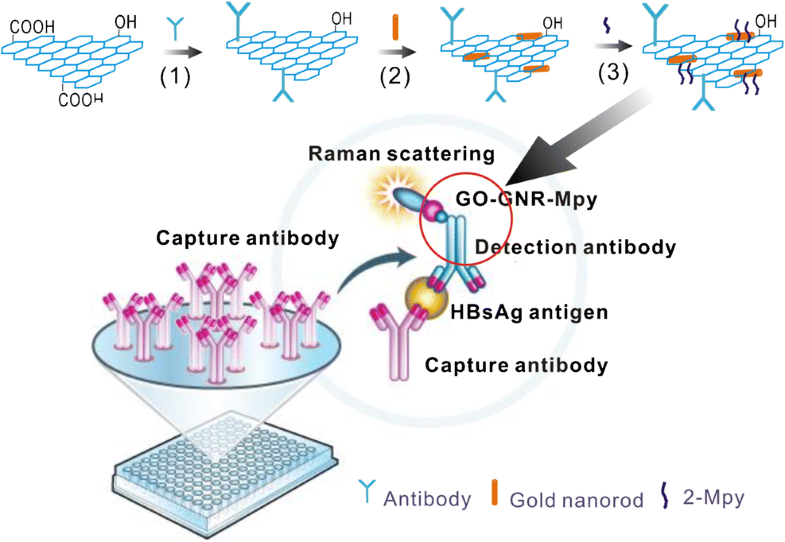 Keywords
Carbon materials 
Gold nanomaterials 
Hepatitis B surface antigen 
Surface-enhanced Raman scattering tag 
2-Mercaptopyridine 
Immunosensor 
Notes
Acknowledgements
This work was supported by the National Natural Science Foundation of China (81472001, 31400851), the Minjiang Scholars Program of Fujian Province, the Tongjiang Scholars Program of Quanzhou City, the Fourth Health Education Joint Development Project of Fujian Province (WKJ-2016-2-36). Natural Science Foundation of Fujian Province (2015 J05030).
Compliance with ethical standards
The author(s) declare that they have no competing interests.
Copyright information
© Springer-Verlag GmbH Austria, part of Springer Nature 2018