A magnetic adsorbent grafted with pendant naphthyl polymer brush for enrichment of the nonsteroidal anti-inflammatory drugs indomethacin and diclofenac
Abstract
Poly(2-naphthyl acrylate) was first grafted onto silica-coated magnetic nanoparticles by surface-initiated atom transfer radical polymerization to prepare a reversed-phase magnetic adsorbent. The resulting polymer brush displays enhanced extraction efficiency by offering active sites on the surfaces of adsorbent. It was applied to the preconcentration of the non-steroidal antiinflammatory drugs (NSAIDs) indomethacin (InDo) and diclofenac (DIC). These drugs interact with the sorbent through hydrophobic and π-interactions, and via electrostatic attraction. By coupling the magnetic solid-phase extraction with HPLC, a method for analysis of InDo and DIC in the environmental water samples was established. The limits of detection range from 0.62 to 0.64 ng·mL−1, and the relative standard deviations for intra-and inter-day analyses of spiked water samples are <11.9%, and relative recoveries are between 62.1 and 96.7%.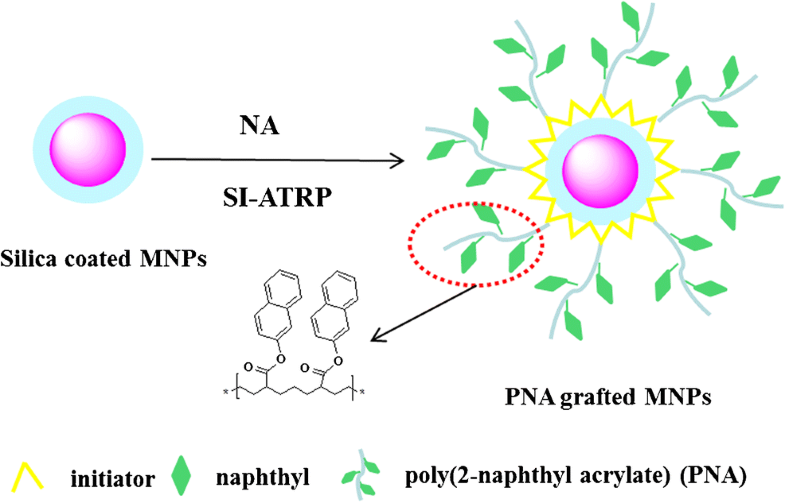 Keywords
Atom transfer radical polymerization 
Silica coating 
Surface modification 
Magnetic solid phase extraction 
π- interaction 
Hydrophobic interaction 
Adsorption 
Enrichment 
NSAIDs 
Reversed-phase adsorbents 
Notes
Acknowledgements
This work was supported by the National Natural Science Foundation in China (Nos. 21575114 and 21775121).
Compliance with ethical standards
The author(s) declare that they have no competing interests.
Copyright information
© Springer-Verlag GmbH Austria, part of Springer Nature 2018