MoS2 nanosheets with peroxidase mimicking activity as viable dual-mode optical probes for determination and imaging of intracellular hydrogen peroxide
Abstract
The authors describe a dual-mode (colorimetric-fluorometric) nanoprobe for H2O2 that was fabricated by covering molybdenum disulfide nanosheets (MoS2 NS) with ortho-phenylenediamine (OPD). The probe (OPD-MoS2 NS) was applied to the optical determination of H2O2, to the quantitation of cell numbers, and to the detection of intracellular concentrations of H2O2. Oxidation by H2O2 leads to a colored and fluorescent product (oxidized OPD) with absorption/excitation/fluorescence peaks at 450/450/557 nm. The nanoprobe can detect H2O2 in down to 500 nM concentrations, and HeLa cells at levels of 100 cells mL−1. The detection limit for intracellular H2O2 is in the 5.5 to 12.6 μM concentration range when the method is applied to cells at levels of 102–106 cells mL−1. Due to its good biocompatibility and easy cell uptake, the nanoprobe also permits sensitive fluorometric imaging of intracellular H2O2. It can also comparatively discriminate the change of intracellular oxidation state in living cancerous and normal cells.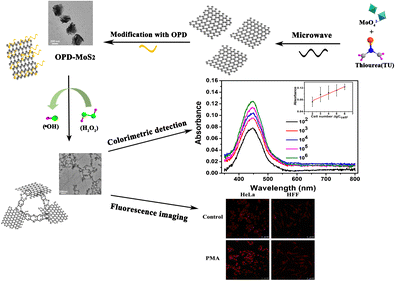 Keywords
Molybdenum disulfide nanosheet 
Ortho-phenylenediamine 
Signal amplification 
Colorimetric detection 
Fluorometric detection 
Intracellular oxide state 
Cell imaging 
Notes
Acknowledgments
This work is financially supported by Fundamental Research Funds for the Central Universities (Grant No. 21610427 and 21612402) and Natural Science Foundation of Guangdong Province (Grant No. S2012040006713). J.Y. Cai thanks the support from Macao Science and Technology Development Fund (Grant No. 028/2014/A1). Q. Gao thanks the support from the National Natural Science Foundation of China (Grant No. 21773093).
Compliance with ethical standards
The author(s) declare that they have no competing interests.
Copyright information
© Springer-Verlag GmbH Austria, part of Springer Nature 2018