Aptamer-based determination of tumor necrosis factor α using a screen-printed graphite electrode modified with gold hexacyanoferrate
Abstract
An aptamer based method is presented for the voltammetric determination of human tumor necrosis factor alpha (TNF-α). Layers of gold hexacyanoferrate (AuHCF) and gold nanoparticles (AuNPs) were directly immobilized on a graphite screen-printed electrode (SPE). Through the strong interaction between cyanide ions (CN−) of AuHCF and AuNPs, gold nanoparticles are assembled on the modified SPE, and this allows for the covalent immobilization of thiolated aptamers against TNF-α (TNF-α-Apt). On incubation of the aptasensor with of TNF-α, the Apt/TNF-α complex is formed, and this leads to a hindered electron transfer and to a decrease in the peak current of the redox probe. Under optimum conditions and at a typical working as low as 0.1 V (vs. a silver pseudo electrode), the electrode works in the 10 pg.mL−1 to 40 μg.mL−1 TNF-α concentration range, with a 5.5 pg.mL−1 detection limit. The high sensitivity and wide detection range of this method allowed TNF-α to in human serum be detected even at very low concentrations.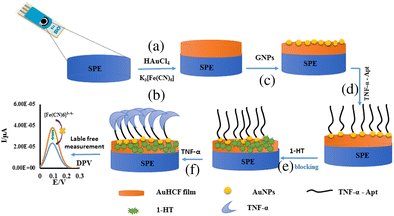 Keywords
Bioassay 
Aptasensor 
Electrochemical assay 
Differential pulse voltammetry 
Electrochemical impedance 
Notes
Acknowledgments
The authors wish to thank the Research Council of Shahid Bahonar University of Kerman and Graduate University of Advanced Technology of Kerman.
Compliance with ethical standards
The author(s) declare that they have no competing interests.
Copyright information
© Springer-Verlag GmbH Austria, part of Springer Nature 2018