A hyper-cross linked polymer as an adsorbent for the extraction of chlorophenols
Abstract
A porous material (polytriphenylamine; PTPA) was synthesized by using triphenylamine as the monomer and dimethoxymethane as the cross-linker. PTPA was characterized by Fourier infrared spectrometry, X-ray diffraction measurements, scanning electron microscopy and N2 adsorption-desorption isotherms. The PTPA has a spherical-shape morphology and relatively high specific surface area. It is shown to be a viable adsorbent for solid phase extraction of 3-chlorophenol, 2,3-dichlorophenol, 2,4-dichlorophenol and 2,4.6-trichlorophenol prior to their determination by high performance liquid chromatography-mass spectrometry. Under the optimized conditions, recoveries from spiked samples are in the range from 92.5% to 106.3%. The limits of detection range from 0.03 to 0.3 ng mL−1 (at an S/N ratio of 3) in case of bottled juice, and from 0.03 to 0.1 ng g−1 in case of tomato samples. The enrichment factors for the four analytes are in the range of 127–183 for bottle juice, and from 110–150 for tomatos. Response is linear in the range of 1.0 to 40.0 ng mL−1 for juice, and 0.3–40.0 ng g−1 for tomatos. The relative standard deviations for the determination of the chlorophenols at 20 ng mL−1 in bottled beverage, and 20 ng g−1 in tomatos are lower than 5.7%.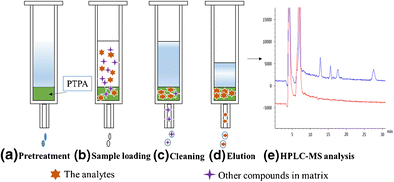 Keywords
Adsorbent 
Polytriphenylamine 
Solid phase extraction 
Chlorophenols 
High performance liquid chromatography-mass spectrometry 
Notes
Acknowledgments
Financial supports from the National Natural Science Foundation of China (31471643, 31571925, 31671930), the Natural Science Foundation of Hebei (B2016204136, B2016204146, B2017204025), the Scientific and Technological Research Foundation of the Department of Education of Hebei Province (ZD2016085) and the Natural Science Foundation of Hebei Agricultural University (LG201607) are gratefully acknowledged.
Compliance with ethical standards
Yao Wang, Ruiyang Ma, Ruobai Xiao, Lin Hao, Qiuhua Wu, Chun Wang and Zhi Wang declare that they have no conflict of interest.
Ethical approval
This article does not contain any studies with human or animal subjects.
Informed consent
Not applicable.
Copyright information
© Springer-Verlag GmbH Austria, part of Springer Nature 2018