Microwave-assisted synthesis of highly luminescent N- and S-co-doped carbon dots as a ratiometric fluorescent probe for levofloxacin
Abstract
Uniform N- and S-co-doped carbon dots (NSCDs) with fluorescence quantum yields of up to 64% were synthesized via a one-step microwave-assisted method. Ammonium citrate and L-cysteine act as precursors, and synthesis is completed in 2.5 min using a 750 W microwave oven to give a 62% yield. The NSCDs show bright blue fluorescence (with excitation/emission peaks at 353/426 nm) and have narrow size distribution. On exposure to levofloxacin (LEV), the emission maximum shifts to 499 nm. This effect was used to design ratiometric (2-wavelength) assays for LEV. The fluorometric method (based on measurement of the fluorescence intensity ratio at 499 and 426 nm) has a detection limit of 5.1 μg·L−1 (3σ/k) and a linear range that extends from 0.01 to 70 mg·L−1. The method was applied to the determination of LEV in three kinds of spiked water samples and has recoveries in the range from 98.6 to 106.8%. The fluorescent probe described here is highly selective and sensitive.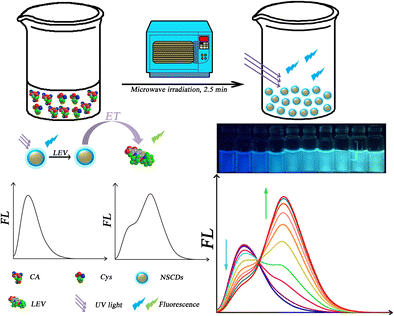 Keywords
Nanoparticles 
Nitrogen and sulfur co-doped 
Luminescence 
Excitation independent 
Fluorescence quantum yields 
Fluorescence quenching 
Electron transfer 
Water analysis 
Antibiotic drug 
Notes
Acknowledgements
This work was supported by the Development Program of the Ministry of Science and Technology of Jilin Province, China (Grant number 20150204070GX).
Compliance with ethical standards
The author(s) declare that they have no competing interests.
Copyright information
© Springer-Verlag GmbH Austria, part of Springer Nature 2018