Bioimaging of metallothioneins in ocular tissue sections by laser ablation-ICP-MS using bioconjugated gold nanoclusters as specific tags
Abstract
An immunohistochemical method is described to visualize the distribution of metallothioneins 1/2 (MT 1/2) and metallothionein 3 (MT 3) in human ocular tissue. It is making use of (a) antibodies conjugated to gold nanoclusters (AuNCs) acting as labels, and (b) laser ablation (LA) coupled to inductively coupled plasma – mass spectrometry (ICP-MS). Water-soluble fluorescent AuNCs (with an average size of 2.7 nm) were synthesized and then conjugated to antibody by carbodiimide coupling. The surface of the modified AuNCs was then blocked with hydroxylamine to avoid nonspecific interactions with biological tissue. Immunoassays for MT 1/2 and MT 3 in ocular tissue sections (5 μm thick) from two post mortem human donors were performed. Imaging studies were then performed by fluorescence using confocal microscopy, and LA-ICP-MS was performed in the retina to measure the signal for gold. Signal amplification by the >500 gold atoms in each nanocluster allowed the antigens (MT 1/2 and MT 3) to be imaged by LA-ICP-MS using a laser spot size as small as 4 μm. The image patterns found in retina are in good agreement with those obtained by conventional fluorescence immunohistochemistry which was used as an established reference method.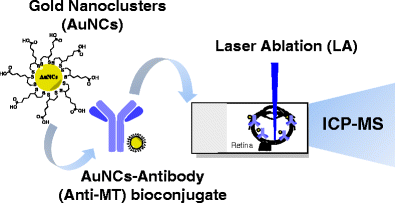 Keywords
Metal nanoclusters 
Fluorescence 
Protein imaging 
Thin tissue sections 
Immunohistochemistry 
Bioconjugation 
Carbodiimide crosslinking 
Laser ablation 
Mass spectrometry 
Notes
Acknowledgements
This work was supported by project CTQ2016-79015-R by Agencia Estatal de Investigación (Spain) and FEDER. M. Cruz-Alonso acknowledges funding received by Zinc-net (COST TD1304) for a STSM at BAM (Germany). B. Fernandez acknowledges her contract RYC-2014-14985 to the Spanish Ministry of Economy and Competitiveness through the "Ramón y Cajal Program". L. Alvarez and H. Gonzalez acknowledge financial support from "Fundación Rafael del Pino" and "Fundación M a Cristina Masaveu Peterson". The authors would like to thank M. Daniela Corte and Pablo Isidro Marrón from the Biobank (HUCA, Oviedo) for antigen retrieval services and Pablo Garcia Manrique for his valuable support in bioconjugation experiments.
Compliance with ethical standards
All procedures performed in studies involving human participants were in accordance with the ethical standards of the National Disease Research Interchange (NDR) of the National Institutes of Health (NIH), the local committee, and with the 1964 Helsinki declaration on Biomedical Research Involving Human Subjects and its later amendments.
Copyright information
© Springer-Verlag GmbH Austria, part of Springer Nature 2017