Magnetic nanoparticles coated with poly(p-phenylenediamine-co-thiophene) as a sorbent for preconcentration of organophosphorus pesticides
Abstract
The authors describe the preparation of Fe3O4 nanoparticles coated with poly(p-phenylenediamine-co-thiophene). The resulting nanoparticles (NPs) are shown to be viable sorbents for use in magnetic solid-phase extraction (MSPE) of organophosphorus pesticides (OPPs). The coated NPs were characterized by BET, FTIR, scanning electron microscopy and transmission electron microscopy. Following sorption of OPPs and subsequent desorption with dichloromethane, the OPPs were quantified by GC in combination with FID. Under optimal conditions, the preconcentration factors range from 118 to 163. Other figures of merit include (a) a linear response between 0.3 and 500 ng mL−1; (b) detection limits (at an S/N ratio of 3) between 0.1 and 0.3 ng mL−1, and (c) a precision (for n = 5) between 4.7 and 8.1% at concentration levels of 1, 10 and 100 ng mL−1). The nanocomposites can be reused up to 8 times. The method was applied to the analysis of spiked environmental water samples and fruit juices and gave relative recoveries in the range of 88.1 to 99.2%.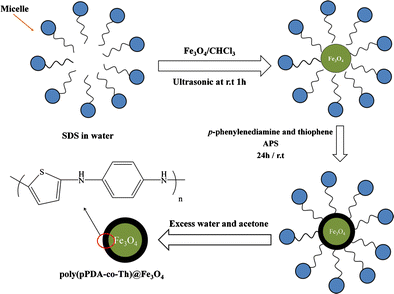 Keywords
Emulsion polymerization 
Brunauer-Emmett-teller adsorption 
Conductive polymer 
Polythiophene 
Poly(p-phenylenediamine) 
Notes
Compliance with ethical standards
The author(s) declare that they have no competing interests.
Copyright information
© Springer-Verlag GmbH Austria, part of Springer Nature 2017