Voltammetric lidocaine sensor by using a glassy carbon electrode modified with porous carbon prepared from a MOF, and with a molecularly imprinted polymer
Abstract
The work describes a hybrid electrochemical sensor for highly sensitive detection of the anesthetic lidocaine (LID). Porous carbon (PC) was synthesized from an isoreticular metal-organic framework-8 (IRMOF-8) and drop cast onto a glassy carbon electrode (GCE). A layer of a molecularly imprinted polymer (MIP) layer was then fabricated in situ on the modified GCE by electro-polymerization, with LID acting as the template and resorcinol as the functional monomer. Hexacyanoferrate is used as an electrochemical probe. The electrical signal (typically acquired at 0.335 V vs. SCE) increases linearly in the 0.2 pM to 8 nM LID concentration range, with a remarkable 67 fM detection limit (at an S/N ratio of 3). The sensor is stable and selective. Eventually, rapid and accurate detection of LID in spiked real samples was successfully realized.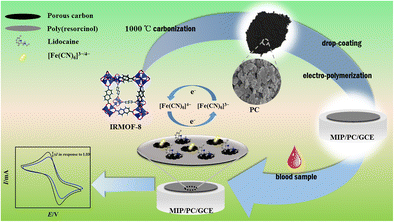 Keywords
MOF derived carbon 
Electrochemical sensor 
Cyclic voltammetry 
Trace measurement 
Scanning electron microscopy 
X-ray photoelectron spectroscopy 
Raman spectra 
Brunauer-Emmett-Teller 
Nanoporous material 
Hexacyanoferrate 
Notes
Acknowledgements
The project financially supported by National Natural Science Foundation of China (81460543, 81773680, 61671308).
Compliance with ethical standards
The author(s) declare that they have no competing interests.
Conflict of Interest
We abide by compliance with ethical standards during the animal experiment.
Copyright information
© Springer-Verlag GmbH Austria, part of Springer Nature 2017