Fluorometric determination of microRNA via FRET between silver nanoclusters and CdTe quantum dots
Abstract
This paper describes a CdTe quantum dot-based fluorescence resonance energy transfer (FRET) based assay for the detection of the breast cancer biomarker microRNA. The method relies on energy transfer between DNA-templated silver nanoclusters (AgNCs) and CdTe QDs. Interaction between double strand oligonucleotide and QDs can be detected qualitatively through gel analysis and quantitatively by the signal amplification from AgNCs to QDs via FRET, best measured at an excitation wavelength of 350 nm and at emission wavelengths of 550 and 590 nm. Three microRNAs (microRNA-21, microRNA-155 and Let-7a) were quantified to verify the feasibility of the method, and a high sensitivity for microRNAs was achieved. Fluorescence intensity increases linearly with the log of the concentration of microRNA 155 in the 5.0 pM to 50 nM range, with a 1.2 pM detection limit.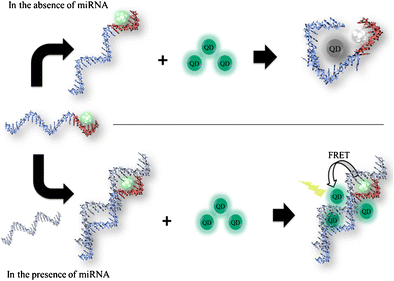 Keywords
Resonance energy transfer 
Nanobiosensor 
Quantum dots 
Biomarker 
Nanoclusters 
Fluorescence 
Notes
Compliance with ethical standards
The author(s) declare that they have no competing interests.
Copyright information
© Springer-Verlag GmbH Austria 2017