An "off-on" fluorescent switch assay for microRNA using nonenzymatic ligation-rolling circle amplification
Abstract
The authors describe a fluorometric switch assay for microRNA (miRNA). It is based on nonenzymatic ligation-rolling circle amplification (NELRCA). A click chemistry-mediated functionalized linear template was prepared by self-cycling. It is capable of forming a modified circular template (MLT) with a triazole linkage for amplified agent. MiRNA can recognize a binding region of the MLT, activates the NELRCA, and converts into rolling circle amplification products (RCPs). Subsequently, the added FAM-labeled signal probes (FAM-SPs) can hybridize to the RCPs. This RCPs/FAM-SPs duplex is less adsorbed onto the graphene oxide (GO) so that fluorescence (best measured at excitation/emission wavelengths of 490/520 nm) increases. In contrast to classical GO-based adsorption and displacement sensing system, the designed hybridization and adsorption fluorescent switch-on platform can reduce the assay time, and improve the detection efficiency of target. Under optimal conditions, the sensing platform has a detection limit as low as 0.75 fM. It can well discriminate target miRNA from other kinds of miRNA. Conceivably, this method can be extended to the trace detection of other nucleic acid biomarkers, and simultaneous recognition of multiple targets, thereby improving the early clinical diagnostic accuracy of cancer.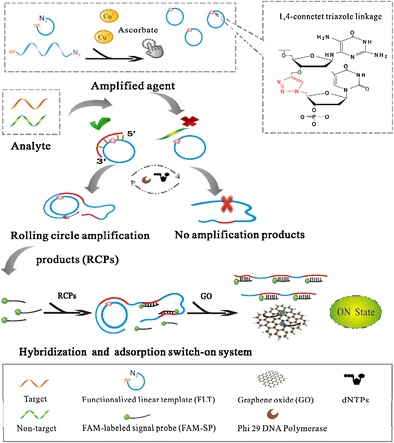 Keywords
Modified circular template 
Triazole linkage 
Rolling circle amplification 
Click chemistry 
Fluorescence switch 
Hybridization and adsorption system 
Notes
Acknowledgements
This work was financially supported by the Natural Science Research Foundation of China (81672112, 81171415) and the Chongqing Yuzhong District Science and Technology Project (20140108).
Compliance with ethical standards
The author(s) declare that they have no competing interests.
Copyright information
© Springer-Verlag GmbH Austria 2017