A dually functional 4-aminophenylboronic acid dimer for voltammetric detection of hypochlorite, glucose and fructose
Abstract
The authors report on the electrochemical process for the modification of a screen printed carbon electrode (SPCE) with an azo-functionalized dimer of 4-amino phenylboronic acid. The dimer is prepared on the surface of the SPCE through the formation of azo bond, and the presence of the dimer is confirmed by cyclic voltammetry, X-ray photoelectron spectroscopy and functional group specific sensing studies. Specifically, this unique dimer-modified electrode possesses dual functionalities (R–N=N-R' and –B(OH)2) which makes its suitable for selective detection of hypochlorite (i.e., free chlorine) and sugar molecules (demonstrated for glucose and fructose), respectively. The heterogeneous electron transfer rate constant is 7.89 s−1 which indicates a fast electron transfer process at the dimer-modified SPCE. The sensor, operated at a voltage of typically 0.05 V (vs. Ag/AgCl), gives a linear response in the 1 μM to 10 mM hypochlorite concentration range and has a sensitivity of 408.16 μA mM−1 cm−2 at neutral pH values. The catalytic rate constant is 49,872 M s−1 for free chlorine. By using hexacyanoferrate as an electrochemical probe and at a typical working voltage of 0.18 V (vs. Ag/AgCl), the sensor displays a linear response in the 1 to 500 μM fructose and glucose concentration range, with detection limits (for S/N = 3) of 0.24 μM for fructose and 0.36 μM for glucose.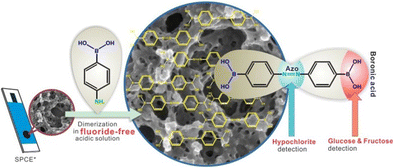 Keywords
Screen printed carbon electrode 
Flow injection 
Free chlorine 
Saccharide detection 
Electrochemical dimerization 
Fluoride-assisted polymerization 
Notes
Acknowledgements
The authors gratefully acknowledge financial support from the Ministry of Science and Technology of Taiwan.
Compliance with ethical standards
The author(s) declare that they have no competing interests.
Copyright information
© Springer-Verlag GmbH Austria 2017