Chelation-enhanced fluorescence of phosphorus doped carbon nanodots for multi-ion detection
Abstract
The present paper reports on a chelation enhanced fluorescence (CHEF) effect that is observed on addition of certain metal ions to phosphorus doped carbon nanodots (P-CNDs). The effect is accompanied by a large shortwave shift of the emission peak. Highly passivated P-CNDs with sizes of around 3 nm were prepared from lactose and phosphoric acid, using a one-pot low temperature solvothermal method. The nanoparticles were purified according to polarity and size. The extent of blue shift and strength of enhancement depend on metal ions and actual pH value. For instance, the P-CND complex with Al(III) has a fluorescence that is shifted to shorter wavelengths, and the fluorescence quantum yield is enhanced from 12% (for the free P-CNDs) to almost 62% at 490 nm. The fluorescence is also enhanced and shifted by the ions Zn(II) and Cd(II). It is quenched by the ions Fe(II), Fe(III), Hg(II), Cu(II) and Sn(II), among others. The enhancement is attributed to the chelation of metal ions with the passivated surface functional groups of P-CNDs, mainly those of phosphorus. Phosphorous free CNDs (prepared via HCl instead of H3PO4) and low-passivated P-CNDs (prepared for longer period of time; typically 8 h) show no enhancement. The metal ion induced enhancement led to the design of a fluorometric assay for the detection of these ions. The detection limits are 4 nM for Al(III) and 100 nM for Zn(II). The two ions were quantified in spiked pharmaceutical formulations. Recoveries typically are 102% (for n = 7).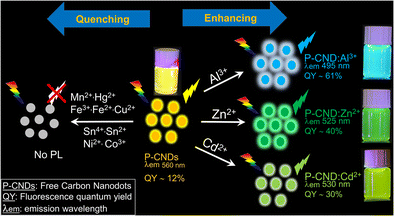 Keywords
Carbon nanodots 
Enhancement 
CHEF 
Fluorescence enhancement 
Phosphorus doped carbon dots 
Quantum yield 
Notes
Acknowledgements
The authors would like to thank Genom Research Center at the University of Koya, Kurdistan. Thanks for Sheffield Surface Analysis Centre for XPS measurements.
Compliance with ethical standards
The author(s) declare that they have no competing interests.
Copyright information
© Springer-Verlag Wien 2017