A magnetic relaxation switch aptasensor for the rapid detection of Pseudomonas aeruginosa using superparamagnetic nanoparticles
Abstract
The authors describe a rapid and sensitive magnetic relaxation switch (MRSw) aptasensor for the determination of the food-borne pathogen Pseudomonas aeruginosa. An aptamer against P. aeruginosa is covalently bound to superparamagnetic iron oxide nanoparticles. On incubation with P. aeruginosa bacteria, they will be captured by the aptamer, and this affects the formation of SPIO aggregates. The resulting strong increase in the spin-spin relaxation time (T2) is utilized as the analytical information to quantify the bacteria. Under optimized conditions, the assay has a linear range that extends from 100 cfu⋅mL−1 to 106 cfu⋅mL−1, and a detection limit of 50 cfu⋅mL−1 (at an S/N ratio of 3). The method was applied to the detection of P. aeruginosa in (spiked) real food and drinking water samples and was validated by the established plate counting method. This aptasensor is considered to represent a promising platform for the determination of P. aeruginosa. Conceivably, the method may be extended to other food-borne bacteria or biomolecules for which respective aptamers are available.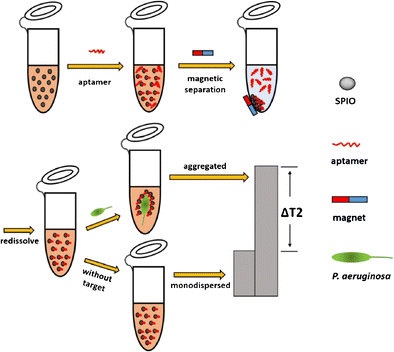 Keywords
Transverse relaxation time 
Carr-Purcell-Meiboom-Gill pulse sequence 
Foodborne pathogen 
Particle aggregation 
Low-field NMR 
Meat spoilage 
Notes
Acknowledgements
This work was supported by the National S&T Support Program of China and the China Agriculture Research System Poultry-related Science and Technology Innovation Team of Peking (CARS-PSTP).
Compliance with ethical standards
The author(s) declare that they have no competing interests.
Copyright information
© Springer-Verlag Wien 2017