Electrochemical aptamer based assay for the neonicotinoid insecticide acetamiprid based on the use of an unmodified gold electrode
Abstract
The authors report on an aptamer-based electrochemical assay for the insecticide acetamiprid. It is based on the target-induced release of the redox probe Methylene Blue (MB) from the dsDNA formed between aptamer and complementary strand (Apt/CS), exonuclease I (Exo I) and silica nanoparticles coated with streptavidin (SiNP-Streptavidin). MB is detected electrochemically using an unmodified gold electrode. In the presence of acetamiprid, MB is released from the Apt/CS dsDNA and accumulated in the close environment of the gold electrode. This results in a strong electrochemical signal for MB at fairly low working voltage of typically −0.27 V. In the absence of target, however, the SiNP-streptavidin conjugate modified MB-dsDNA remains intact. Hence, the electrochemical signal remains weak. The method displays high selectivity for acetamiprid and a limit of detection as low as 153 pM. The assay was successfully applied to the determination of acetamiprid in (spiked) water and serum samples, with LODs of 161 and 209 pM, respectively.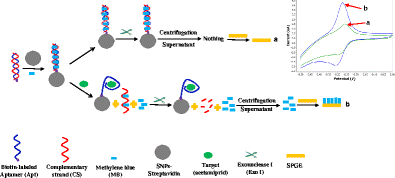 Keywords
Methylene blue 
Differential pulse voltammetry 
Silica nanoparticles 
Insecticide 
Exonuclease I 
Complementary strand 
Water analysis 
Serum analysis 
Notes
Acknowledgements
Financial support of this study was provided by Mashhad University of Medical Sciences.
Compliance with ethical standards
The author(s) declare that they have no competing interests.
Copyright information
© Springer-Verlag Wien 2016