Ultrasensitive visual and colorimetric determination of dopamine based on the prevention of etching of silver nanoprisms by chloride
Abstract
The authors describe a selective and sensitive colorimetric method for determination of dopamine (DA) in serum. It is based on the protection of silver nanoprisms (AgNPRs) from being etched by chloride ion in the presence of DA. In the absence of DA, the shape of the AgNPRs is changed from triangle nanoplates to round nanodisk due to etching by chloride. This is accompanied by a stepwise color change from blue via purple and red to yellow. It is found that DA is strongly adsorbed on the surface of AgNPRs and thereby acts as a protective agent. As a result, etching by chloride is prevented and the color changes do not occur. This finding ease exploited to design a method for optical quantification of DA with either bare eyes or UV-vis spectrophotometry. The wavelength shift of the in-plane dipole surface plasmon band of the AgNPRs is linearly related to the DA concentration in the range from 0.5 to 100 nM. The detection limit is 0.16 nM (at an S/N ratio of 3) which is lower than that of most existing methods. Uric acid, ascorbic acid and other coexisting species do not interfere. The sensor is reproducible and stable and was applied to the determination of DA in spiked serum samples where it gave recoveries that ranged from 97.4 to 104.3%.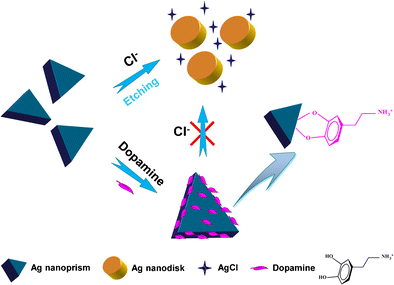 Keywords
Ag-catechol interaction 
Surface plasmon resonance 
Spectrophotometry 
Surface adsorption 
Imaging 
Serum analysis 
Notes
Acknowledgements
This work was supported by a grant from the Major National Scientific Research Plan of China (973 Program) (Grant No. 2011CB933202), and the National Natural Science Foundation of China (Grant Nos. 21676270 and 21205132), Science and Education Integration Innovation of Molecule Science of Institute of Chemistry Chinese Academy of Sciences (No. Y52902HED2) and the Special Fund of UCAS for Scientific Research Cooperation between Faculty and Institutes (Grant No. Y552016Y00).
Compliance with ethical standards
The authors declare that they have no competing interests.
Copyright information
© Springer-Verlag Wien 2016