Fluorometric determination of the antibiotic kanamycin by aptamer-induced FRET quenching and recovery between MoS2 nanosheets and carbon dots
Abstract
A rapid and sensitive aptamer-based assay is described for kanamycin, a veterinary antibiotic with neurotoxic side effects. It is based on a novel FRET pair consisting of fluorescent carbon dots and layered MoS2. This donor-acceptor pair (operated at excitation/emission wavelengths of 380/440 nm) shows fluorescence recovery efficiencies reaching 93 %. By taking advantages of aptamer-induced fluorescence quenching and recovery, kanamycin can be quantified in the of 4–25 μM concentration range, with a detection limit of 1.1 μM. The method displays good specificity and was applied to the determination of kanamycin in spiked milk where it gave recoveries ranging from 85 % to 102 %, demonstrating that the method serves as a promising tool for the rapid detection of kanamycin in milk and other animal-derived foodstuff.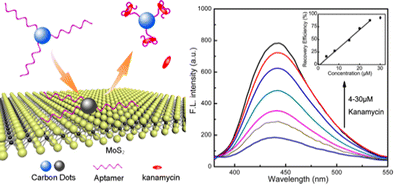 Keywords
Veterinary antibiotic 
Aptasensor 
Molybdenum disulfide MoS2 
Exfoliation 
Fluorescence resonance energy transfer (FRET) 
Milk analysis 
Notes
Acknowledgments
This work is supported by the National Science & Technology Pillar Program of China (No. 2014BAD13B05) and the Yangling Agricultural Hi-tech Industries Demonstration Zone (2014NY-35).
Compliance with ethical standards
The author(s) declare that they have no competing interests.
Copyright information
© Springer-Verlag Wien 2016