Electrochemical strategy for ultrasensitive detection of microRNA based on MNAzyme-mediated rolling circle amplification on a gold electrode
Abstract
The authors describe an electrochemical strategy for ultrasensitive and specific detection of microRNA (miRNA). It is based on both multicomponent nucleic acid enzyme (MNAzyme) amplification and rolling circle amplification (RCA). In the presence of target miRNAs, partial enzyme A (partzyme A) and partial enzyme B (partzyme B) are assembled to form active MNAzymes. Once formed, the MNAzymes catalyze the cleavage of the hairpin substrates to liberate biotinylated fragments which hybridized with the capture probes immobilized on a gold electrode. The RCA is then initiated to form a product that binds many detection probes. Finally, the amperometric signal (best acquired at a working voltage of 0.22 V vs. Ag/AgCl) is obtained by employing the streptavidinylated alkaline phosphatase as the enzyme. This biosensor has a 1.66 fM detection limit, and a dynamic range that extends from 10 fM to 1 nM. It displays specificity down to single mismatch discrimination of target miRNAs and good reproducibility. It was successfully applied to the determination of miRNA in total RNA samples extracted from human breast adenocarcinoma MCF-7 cells.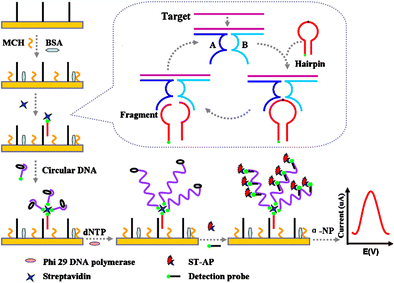 Keywords
Electrochemical biosensor 
Electrochemical impedance spectroscopy 
Differential pulse voltammetry 
Square wave voltammetry 
Alkaline phosphatase 
Streptavidin 
human breast adenocarcinoma 
MCF-7 cells 
DNA polymerase 
T4 DNA ligase 
Notes
Acknowledgments
This work was funded by the National Natural Science Foundation of China (81101638) and the Science and Technology Plan Project of Yu Zhong District of Chongqing (20150114).
Compliance with ethical standards
The author(s) declare that they have no competing interests.
Copyright information
© Springer-Verlag Wien 2016