Aptasensor for ATP based on analyte-induced dissociation of ferrocene-aptamer conjugates from manganese dioxide nanosheets on a screen-printed carbon electrode
Abstract
The authors report on a new electrochemical aptasensing strategy for the determination of adenosine - 5'-triphosphate (ATP) at picomolar levels. First, manganese dioxide (MnO2) nanosheets with an average size of ~70 nm were synthesized via a hot-injection method on the basis of reaction between potassium permanganate and the cationic detergent cetyltrimethylammonium bromide. The resulting MnO2 nanosheets were then immobilized onto a pretreated screen-printed carbon electrode which readily binds the ferrocene-labeled ATP aptamer through the van der Waals force between the nucleobases and the basal plane of the nanoflakes. The immobilized ferrocene-aptamer conjugates activates the electrical contact with the electrode and produces a strong signal in the potentials scanned (0.0 to 1.0 V vs. Ag/AgCl). Upon addition of ATP, it will react with the aptamer and cause the dissociation of the ferrocene-aptamer from the nanosheets, this resulting in a decrease in the electrical signal. Under optimal conditions, this platform exhibits a detection limit as low as 0.32 nM of ATP. The repeatability and intermediate precision is below 10.7 % at a 10 nM concentration level. The method was applied to analyze blank fetal calf serum spiked with ATP, and the recoveries (at 3 concentration levels) ranged between 91.3 and 118 %. This detection scheme is rapid, simple, cost-effective, and does not require extensive sample preparation or multiple washing steps.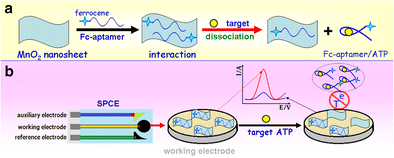 Keywords
Two-dimensional nanosheets 
Potential cycling 
Electrochemical label 
Square-wave voltammetry 
Analyte-induced dissociation 
Bioconjugation 
Transmission electron microscopy 
Scanning electron microscopy 
Raman spectroscopy 
Notes
Acknowledgments
Support by the National Natural Science Foundation of China (41176079 & 21475025), the People's Livelihood Science and Technology Innovation Project of Chongqing City (cstc2016shmszx20001), and the Advanced Natural Science Foundation of Chongqing City (cstc2015jcyjBX0126) is gratefully acknowledged.
Compliance with ethical standards
The author(s) declare that they have no competing interests.
Copyright information
© Springer-Verlag Wien 2016