Synthesis of red fluorescent graphene quantum dot-europium complex composites as a viable bioimaging platform
Abstract
We have prepared graphene quantum dot-europium(III) complex composites by noncovalently connecting chelating ligands dibenzoylmethane (DBM) and 1,10-phenanthroline (Phen) with graphene quantum dots (GQDs) first, followed by coordination to Eu(III). The resulting composites are well water-soluble and display red fluorescence of high color purity. The composites were characterized by transmission electron microscopy, X-ray photoelectron spectroscopy and X-ray diffraction. Aqueous solutions of the composites under 365 nm excitation display fluorescence with a peak at 613 nm and a quantum yield as high as 15.5 %. The good water solubility and stable photoluminescence make the composites very different from other Eu(III)-based coordination complexes. The composites are cell viable and can be used to label both the cell membrane and the cytoplasm of MCF-7 cells. They are also shown to act as bioprobes for in-vivo localization of tumorous tissue. In our perception, such composites are expected to possess wide scope because of the many functionalizations that are possible with GQDs.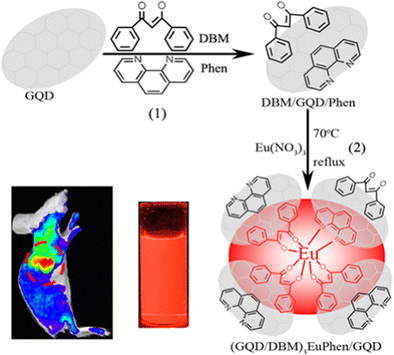 Keywords
Composites 
HRTEM 
FT-IR 
XPS 
XRD 
Fluorescence 
Quantum yield 
MCF-7 cells 
Cellular imaging 
In vivo imaging 
Notes
Acknowledgments
This work is supported by NSFC of China (21573019), the Major Research Plan of NSFC (21233003), the Fundamental Research Funds for the Central Universities.
Compliance with Ethical Standards
The authors declare that they have no competing interests.
Copyright information
© Springer-Verlag Wien 2016