DNA aptamer selection and aptamer-based fluorometric displacement assay for the hepatotoxin microcystin-RR
Abstract
Microcystin-RR (MC-RR) is a highly acute hepatotoxin produced by cyanobacteria. It is harmful to both humans and the environment. A novel aptamer was identified by the systemic evolution of ligands by exponential enrichment (SELEX) method as a recognition element for determination of MC-RR in aquatic products. The graphene oxide (GO) SELEX strategy was adopted to generate aptamers with high affinity and specificity. Of the 50 aptamer candidates tested, sequence RR-33 was found to display high affinity and selectivity, with a dissociation constant of 45.7 ± 6.8 nM. Aptamer RR-33 therefore was used as the recognition element in a fluorometric assay that proceeds as follows: (1) Biotinylated aptamer RR-33 is immobilized on the streptavidinylated wells of a microtiterplate, and carboxyfluorescein (FAM) labelled complementary DNA is then allowed to hybridize. (2) After removal of excess (unbound) cDNA, sample containing MC-RR is added and incubated at 37 °C for 2 h. (3) Displaced free cDNA is washed away and fluorescence intensity measured at excitation/emission wavelengths of 490/515 nm. The calibration plot is linear in the 0.20 to 2.5 ng·mL−1 concentration range, and the limit of detection is 80 pg·mL−1. The results indicate that the GO-SELEX technology is appropriate for the screening of aptamers against small-molecule toxins. The detection scheme was applied to the determination of MC-RR in (spiked) water, mussel and fish and gave recoveries between 91 and 98 %. The method compares favorably to a known ELISA. Conceivably, this kind of assay is applicable to other toxins for which appropriate aptamers are available.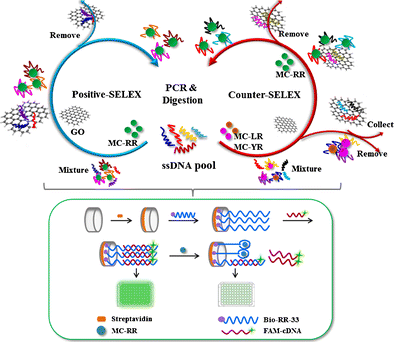 Keywords
Cyanobacteria 
SELEX 
Biotinylated aptamer 
Microplate assay 
FTIR 
Transmission electron microscopy 
PAGE 
Taq polymerase 
Exonuclease 
Notes
Acknowledgments
This work was partially supported by the National Science and Technology Support Program of China (2015BAD17B02-5), China Postdoctoral Science Foundation (2016T90430, 2015 M580402), the NSFC (31401576, 31401575), BK20140155, Collaborative innovation center of food safety and quality control in Jiangsu Province, and S&T Support Program of Jiangsu Province BE2013732.
Compliance with ethical standards
The author(s) declare that they have no competing interests.
Copyright information
© Springer-Verlag Wien 2016