Synthesis of strongly fluorescent carbon quantum dots modified with polyamidoamine and a triethoxysilane as quenchable fluorescent probes for mercury(II)
Abstract
This article reports on the synthesis of water dispersible carbon quantum dots (CDs) by a one-step hydrothermal method using polyamidoamine (PAMAM) and (3-aminopropyl)triethoxysilane (APTES) as a platform and passivant. The resulting CDs are highly uniform and finely dispersed. The synergistic effect between PAMAM and APTES on the surface of the CDs results in a fluorescence that is much brighter than that of CDs modified with either APTES or PAMAM only. The fluorescence of the co-modified CDs is quenched by Hg(II) ions at fairly low concentrations. Under the optimum conditions, the intensity of quenched fluorescence drops with Hg(II) concentration in the range from 0.2 nM to 10 μM, and the detection limit is 87 fM. The effect of potentially interfering cations on the fluorescence revealed a high selectivity for Hg2+. The fluorescent probe was applied to the determination of Hg(II) in (spiked) waters and milk and gave recoveries between 95.6 and 107 %, with relative standard deviation between 4.4 and 6.0 %.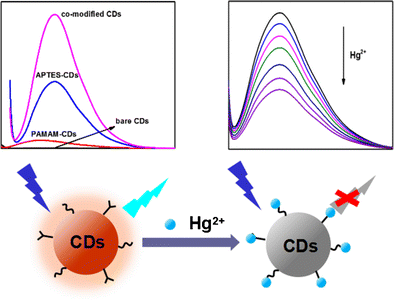 Keywords
Nanoparticles 
Hybrid material 
PAMAM 
APTES 
Hydrothermal synthesis 
Quenching 
X-ray photoelectron spectroscopy 
Notes
Acknowledgments
We gratefully acknowledge the financial support extended by the National Natural Science Foundation of China (No. 21475092), the Project Funded by the Priority Academic Program Development of Jiangsu Higher Education Institutions (PAPD), the Project of Scientific and Technologic Infrastructure of Suzhou (SZS201207), and the Open Research Project of the Battery Technology Innovation Center for Public Services of Jiangsu Province (HDP201206).
Compliance with Ethical Standards
The author(s) declare that they have no competing interests.
Copyright information
© Springer-Verlag Wien 2016