Temperature-responsive amperometric H2O2 biosensor using a composite film consisting of poly(N-isopropylacrylamide)-b-poly (2-acrylamidoethyl benzoate), graphene oxide and hemoglobin
Abstract
A temperature-responsive biosensing film consisting of the temperature-responsive block co-polymer poly (N-isopropylacrylamide)-b-poly(2-acrylamidoethyl benzoate) (referred to as PNIPAM-b-PAAE), graphene oxide (GO), and hemoglobin (Hb) was fabricated and used to modify a glassy carbon electrode (GCE). The film provides a favorable micro-environment for Hb to facilitate the electron transfer to the GCE. Hb at PNIPAM-b-PAAE/GO/Hb (PGH) film exhibits a couple of well-defined redox peaks with a formal potential of −0.371 V (vs. SCE) and displays intrinsic electro-catalytic activity toward H2O2. The sensing film also shows temperature-tunable catalytic activity toward H2O2 that can be stimulated by temperature. Large peak currents can be seen in amperometry at 0.4 V (vs. SCE) in pH 7.0 phosphate buffer only if the temperature is above the lower critical solution temperature (LCST) of 32 °C. The response of the modified GCE is linear in the 0.1 to 3.7 μmol L−1 concentration range if operated at above 32 °C, but in the 0.2 to 3.7 μmol L−1 concentration range at below 30 °C. This behavior is attributed to the temperature-dependent phase transition of PNIPAM-b-PAAE and cooperative effect of GO. The strategy presented here in our perception meets the requirements of switchable sensors for use in bioscience and biotechnology.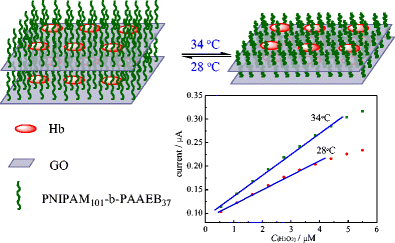 Keywords
Temperature-responsive polymer 
On-off detection 
Electrochemical switch 
Glassy carbon electrode 
Cyclic voltammetry 
Notes
Acknowledgments
This research was financially supported by the NSF of China (Grants No. 21475114 and 21275123), Program for Changjiang Scholars and Innovative Research Team in University (1337304), Project of Hunan provincial natural science Foundation of China (14JJ1019), Research fund for the doctoral program of higher education of china, Ministry of education of China (20134301110005).
Copyright information
© Springer-Verlag Wien 2016