Determination of dopamine using a glassy carbon electrode modified with a graphene and carbon nanotube hybrid decorated with molybdenum disulfide flowers
Abstract
We describe a hybrid material that consists of molybdenum sulfide flowers placed on graphene nanosheets and multiwalled carbon nanotubes (GNS-CNTs/MoS2). It was deposited on a glassy carbon electrode (GCE) which then is well suited for sensitive and selective determination of dopamine. The GNS-CNTs/MoS2 nanocomposite was prepared by a hydrothermal method and characterized by scanning electron and transmission emission microscopies, energy-dispersive X-ray spectroscopy, cyclic voltammetry, differential pulse voltammetry and electrochemical impedance spectroscopy. Electrochemical studies show the composite to possess excellent electrochemical properties such as a large electrochemically active surface, high capacitance current, a wide potential window, high conductivity and large porosity. The electrode displays excellent electrocatalytic ability to oxidize dopamine. The modified GCE, best operated at a working potential as low as 0.15 V (vs. Ag/AgCl), responds linearly to dopamine in the 100 nM to 100 μM concentration range. The detection limit is 50 nM, and the sensitivity is 10.81 (± 0.26) μA⋅μM−1⋅cm−2. The sensor has good selectivity, appreciable stability, repeatability and reproducibility. It was applied to the determination of dopamine in (spiked) biological and pharmaceutical samples.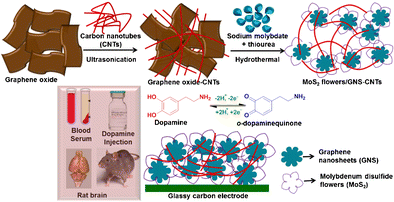 Keywords
Parkinson disease 
Nanomaterials 
Nanocomposite 
Carbon nanostructures 
Metal dichalcogenide nanosheets 
Cyclic voltammetry 
Differential pulse voltammetry 
Scanning electron microscopy, rat brain analysis 
Serum analysis 
Notes
Acknowledgment
This work was supported by the Ministry of Science and Technology, Taiwan (NSC 103-2811-M-027-002 and 102-2113-M-027-002-MY3).
Compliance with ethical standards
The author(s) declare that they have no competing interests.
Copyright information
© Springer-Verlag Wien 2016