Micro- and nanostructured sol-gel-based materials for optical chemical sensing (2005–2015)
Abstract
This review (with 172 references) highlights the progress made in the past 10 years in silica sol-gel-based materials for use in optical chemical sensing. Following an introduction, the processes leading to the sol-gel-based and ormosil materials, their printability and methods for characterisation are discussed. Then various classes of optical sensors, with a focus on sensors for pH values, oxygen, carbon dioxide, ammonia (also in dissolved form), and heavy metal ions are described. A further section covers nanoparticle-based optical sensors mainly for use in intracellular sensing of the above species. Recent developments in this area are also emphasised and future trends discussed.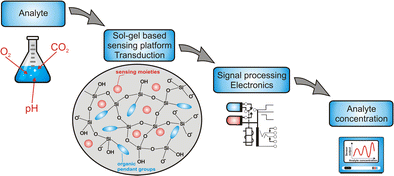 Keywords
Sol-gel process 
Ormosils 
Oxygen 
pH 
Carbon dioxide 
Ammonia 
Heavy metal ions 
Optical sensor 
Nanoparticles 
Intracellular sensing 
Notes
Acknowledgments
The authors gratefully acknowledge Enterprise Ireland and the European Union (European Regional Development Fund (ERDF) 2014–2020 Programme) for financial support (project number IP/2014/0300) and Science Foundation Ireland (SFI) under Grant Number 14/IFB/2704.
Compliance with ethical standards
This chapter does not contain any studies with human participants or animals performed by any of the authors.
Copyright information
© Springer-Verlag Wien 2016