Nanomaterials in electrochemical biosensors for pesticide detection: advances and challenges in food analysis
Abstract
This overview (with 114 refs.) covers the progress made between 2010 and 2015 in the field of nanomaterial based electrochemical biosensors for pesticides in food. Its main focus is on strategies to analyze real samples. The review first gives a short introduction into the most often used biorecognition elements. These include (a) enzymes (resulting in inhibition-based and direct catalytic biosensors), (b) antibodies (resulting in immunosensors), and (c) aptamers (resulting in aptasensors). The next main section covers the various kinds of nanomaterials for use in biosensors and includes carbonaceous species (carbon nanotubes, graphene, carbon black and others), and non-carbonaceous species in the form of nanoparticles, rods, or porous materials. Aspects of sample treatment and real sample analysis are treated next before discussing vanguard technologies in tailor-made food analysis.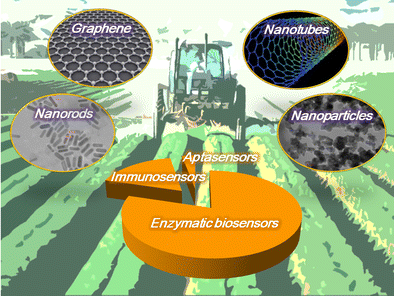 Keywords
Enzymatic biosensor 
Immunosensor 
Aptasensor 
Carbon nanotubes 
Nanorods 
Nanoparticles 
Graphene 
Carbon black 
Sustainable food chain 
Food safety 
Notes
Acknowledgments
F.A. likes to acknowledge the Italian Ministry of Defence, Aptamer BW project for financial support.
Compliance with ethical standards Please check "Compliance with ethical standards" statement if presented correctly.ok
The author(s) declare that they have no competing interests
Copyright information
© Springer-Verlag Wien 2016