Manganese dioxide nanosheets as an optical probe for photometric determination of free chlorine
Abstract
We report on a colorimetric assay for free chlorine using MnO2 nanosheets as an optical probe. In the absence of free chlorine, the addition of ascorbic acid (AA) causes the chemical dissolution of MnO2 nanosheets via a redox reaction to result in low absorbance. However, if a solution containing free chlorine is added to the system, AA will be oxidized by free chlorine and the MnO2 nanosheets will not longer be dissolved. Hence, the AA-induced decoloration will not take place and solution will remain yellow. Under optimized experimental conditions, there is a linear relationship between the change in absorbance at 370 nm and the concentration of free chlorine in the 0.2 to 10 μM concentration range, with an 80 nM detection limit. The detection limit for visual evaluation is 8.0 μM. The assay is fairly selective for free chlorine over common inorganic ions and small organic substances. It was applied to the determination of free chlorine in tap water using the standard addition method.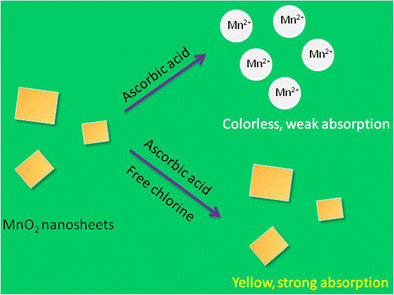 Keywords
Tap water analysis 
Hypochlorous acid 
Ascorbic acid 
AFM 
N, N-diethyl-p-phenylenediamine 
Notes
Acknowledgments
The support of this research by the Teaching Reform Project of Southwest University of Science and Technology (Grant No. 15xn0077), and Undergraduate Innovation Fund Project of Southwest University of Science and Technology (CX15-011) is gratefully acknowledged.
Copyright information
© Springer-Verlag Wien 2016