An eco-friendly molecularly imprinted fluorescence composite material based on carbon dots for fluorescent detection of 4-nitrophenol
Abstract
We on report an eco-friendly molecularly imprinted material based on carbon dots (C-dots) via a facile and efficient sol–gel polymerization for selective fluorescence detection of 4-nitrophenol (4-NP). The amino-modified C-dots were firstly synthesized by a hydrothermal process using citric acid as the carbon source and poly(ethyleneimine) as the surface modifier, and then after a sol–gel molecular imprinting process, the molecularly imprinted fluorescence material was obtained. The material (MIP-C-dots) showed strong fluorescence from C-dots and high selectivity due to the presence of a molecular imprint. After the detection conditions were optimized, the relative fluorescence intensity (F0/F) of MIP-C-dots presented a good linearity with 4-NP concentrations in the linear range of 0.2 − 50 μmol L-1 with a detection limit (3σ/k) of 0.06 μmol L-1. In addition, the correlation coefficient was 0.9978 and the imprinting factor was 2.76. The method was applicable to the determination of trace 4-NP in Yangtze River water samples and good recoveries from 92.6–107.3 % were obtained. The present study provides a general strategy to fabricate materials based on C-dots with good fluorescence property for selective fluorescence detection of organic pollutants.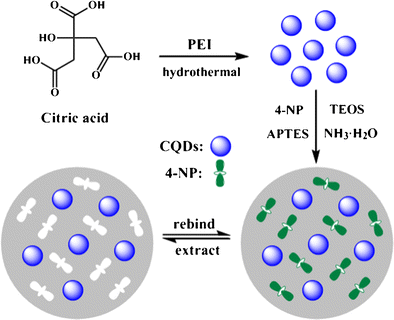 Keywords
Molecular imprinting 
Sol–gel 
Eco-friendly material 
Quenching 
Stern-Volmer plot 
Selective recognition 
Notes
Acknowledgments
This work was financially supported by the National Natural Science Foundation of China (No. 21277063, No. 21407057 and No. 21407064), National Basic Research Program of China (973 Program, 2012CB821500), Natural Science Foundation of Jiangsu Province (No. BK20140535), National Postdoctoral Science Foundation (No. 2014 M561595), Postdoctoral Science Foundation funded Project of Jiangsu Province (No. 1401108C).
Compliance with ethical standards
The author(s) declare that they have no competing interests
Copyright information
© Springer-Verlag Wien 2016