Synthesis of yellow fluorescent carbon dots and their application to the determination of chromium(III) with selectivity improved by pH tuning
Abstract
Carbon dots with yellow fluorescence (y-CDs) were synthesized from sucrose by acid carbonization with phosphoric acid as the dehydrating agent. Optimal yield was obtained by heating sucrose in concentrated phosphoric acid to 85 °C for 30 min. The resulting y-CDs under the photo-excitation at 360 nm display an emission band peaking at 560 nm. The fluorescence is independent of pH values in the range from pH 4.0 to 11.4, and at ionic strengths of up to 4.7 M of potassium chloride. We also show that these y-CDs are viable fluorescent probes for the detection of chromium(III). At near neutral pH conditions, several metal ions quench the emission of the y-CDs, but under acidic conditions (pH 4), fluorescence is strongly affected by Cr(III) only. Quenching depends on the concentration of Cr(III) in the range up to 200 μM, and the limit of detection is 24.6 μM.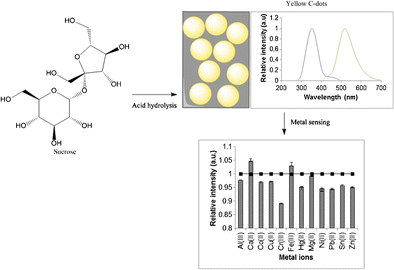 Keywords
Optical probe 
Nanoprobe 
Fluorescence 
Quenching 
Water analysis 
Carbonization 
Notes
Acknowledgments
We would like to extend our gratitude to the laboratory technicians and colleagues of Swinburne University of Technology Sarawak Campus for their continuous support and guidance. Special thanks to Ms. Jessica Fong and Ms. Ng Yann Huey for their valuable help and contribution in the experimental study of this work. Financial support was provided by Swinburne University of Technology Sarawak Campus through the Swinburne Sarawak Research Grant, Phase 1/2013 (2-5509).
Compliance with ethical standards
The author(s) declare that they have no competing interests.
Copyright information
© Springer-Verlag Wien 2016