Enzyme-free glucose sensor using a glassy carbon electrode modified with reduced graphene oxide decorated with mixed copper and cobalt oxides
Abstract
We describe a binary porous catalyst consisting of a reduced graphene oxide (rGO) support decorated with mixed Cu-Co oxides. It was synthesized electrochemically and characterized by scanning electron microscopy, energy dispersive X-ray spectroscopy and cyclic voltammetry. The nanocomposite was deposited on a glassy carbon electrode (GCE) where it exhibits better electrocatalytic activities for glucose oxidation compared to GCEs modified with CuOx or CoOx only on an rGO support. The improved electrocatalytic activities are believed to result from the synergistic effect of CuOx-CoOx binary catalyst, the high conductivity of rGO support, and the porous scaffold. The amperometric sensor, operated in 0.1 M NaOH at a working potential of +0.5 V (vs. SCE), displays a calibration plot for glucose that is linear in the 5 to 570 μM concentration range, and the detection limit is 0.5 μM. The performance of the sensor was evaluated by determination of glucose in (spiked) human urine.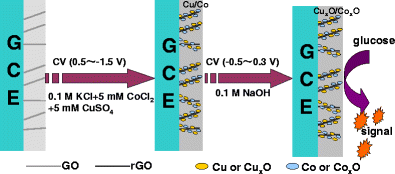 Keywords
Nanocomposite 
Nanoporous material 
Nonenzymatic sensing 
Binary catalyst 
Electrocatalytic oxidation 
Cyclic voltammetry 
Scanning electron microscopy 
Energy dispersive X-ray spectroscopy 
Notes
Acknowledgments
This work was supported by the Grants from the National Natural Science Foundation of China (21105002, 21273010), the fund project for Young Scholar sponsored by Henan province (14HASTIT012, 13HASTIT014, 2013GGJS-147) and for Henan Key Technologies R&D Program (122102310516, 12B150002) and the Innovative Foundation for the College students of China and Anyang Normal University (201310479012, ASCX/2015-Z14).
Compliance with Ethical Standards
The author(s) declare that they have no competing interests
Copyright information
© Springer-Verlag Wien 2016