Amperometric thyroxine sensor using a nanocomposite based on graphene modified with gold nanoparticles carrying a thiolated β-cyclodextrin
Abstract
This article reports a novel electrochemical sensor based on a nanocomposite for the sensitive determination of Thyroxine (T4), the active form of the hormone. Hydrodynamic amperometry is performed with a nanocomposite electrode based on the dispersion of a graphene–based filler hybrid-nanomaterial throughout an insulating epoxy resin in the optimum composition ratio (the near–percolation composition). This hybrid-nanomaterial consists of reduced graphene oxide tuned with gold nanoparticles and a biorecognition agent, the thiolated β-cyclodextrin. Recognition of T4 is accomplished via supramolecular chemistry, due to the formation of an inclusion complex between β-cyclodextrin and T4. The amperometric device operates at +0.85 V vs. Ag/AgCl, where the oxidation of T4 takes place on the electrode surface. The sensor covers the 1.00 nM to 14 nM T4concentration range in a 0.1 M HCl solution, with a detection limit of 1.00 ± 0.02 nM. The sensor can be easily reset by polishing. It exhibits the lowest detection limit regarding to any other electrochemical electrodes for T4 determination previously described in literature.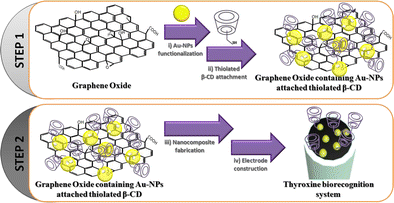 Keywords
Nanocomposite 
Near-percolation composition 
High-Resolution Transmission Electron Microscopy 
Biorecognition 
Carbon filler 
Epoxy resin 
Notes
Acknowledgments
This work was supported by the project CTQ2012-36165, MAT2013-47869-C4-2-P, the Science Foundation Ireland (SFI 12/IA/1300 and Amber project) and the Ministry of Education and Science of the Russian Federation (Grant no. 14.B25.31.0002). J. Muñoz thanks Universitat Autònoma de Barcelona (UAB) for the award of PIF studentship. M. Riba-Moliner and A. Gonzalez-Campo thank CSIC for the JAE-predoc and JAE-Doc grants.
Compliance with Ethical Standards
The authors declare that they have no competing interests.
Copyright information
© Springer-Verlag Wien 2016