Carbon dots doped with nitrogen and sulfur and loaded with copper(II) as a "turn-on" fluorescent probe for cystein, glutathione and homocysteine
Abstract
We report on the synthesis of fluorescent carbon dots doped with nitrogen and sulfur (N,S-CDs) via a hydrothermal process in pure water and starting from a mixture of alfalfa and garlic. Compared to N-doped CDs, the N,S-CDs exhibit a high fluorescence quantum yield (10 %) and a more longwave emission maximum (at 481 nm). The results also pave the way to tune the luminescence of CDs. The fluorescence of the N,S-CDs is quenched by Cu(II) ions but is recovered by addition of any of the biothiols cystein, glutathione or homocysteine. This turn-on effect was exploited to design a method for the quantification of these thiols in concentrations as low as 86 nM. The method was successfully applied to the determination of Cys in (spiked) human serum samples.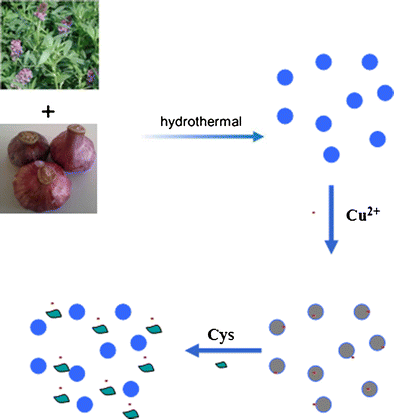 Keywords
Quenching 
Fluorescence recovery 
Quantum yield 
Luminescence 
Imaging 
Transmission electron microscopy 
Notes
Acknowledgments
This work was supported by the National Natural Science Foundation of China (21475113), the Sci-Tech Research Development Program of Shaanxi Province (2014JM2049), the Natural Science Foundation of Shaanxi Province (2012JQ2013), and the Special Scientific Research Funding of Xianyang Normal University (14XSYK016).
Compliance with ethical standards
The author(s) declare that they have no competing interests
Copyright information
© Springer-Verlag Wien 2016