Amperometric nitrite sensor based on a glassy carbon electrode modified with multi-walled carbon nanotubes and poly(toluidine blue)
Abstract
An amperometric nitrite sensor modified with multi-walled carbon nanotubes (MWCNTs) and poly(toluidine blue) (PTB) on glassy carbon electrode was constructed. The surface morphology of the composite- modified electrode was characterized by scanning electron microscopy, and the electrochemical response behavior and electrocatalytic oxidation mechanism of nitrite were investigated by cyclic voltammetry. The high surface-to-volume ratio of MWCNTs and PTB brings the electrochemical sensing unit and nitrite in full contact. This renders the electrochemical response extremely sensitive to nitrite. Under the optimal measurement conditions and a working voltage of 0.73 V (vs. SCE), a linear relationship is obtained between the oxidation peak current and nitrite concentration in the range of 39 nM–1.1 mM, and the limit of detection is lowered to 19 nM (at an S/N ratio of 3). The sensor was successfully applied to the determination of nitrite in greenhouse soils.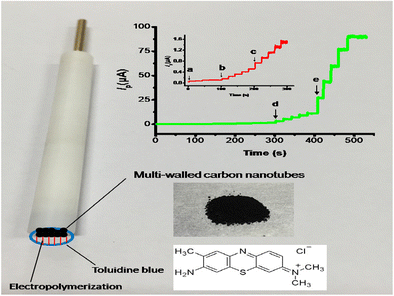 Keywords
Cyclic voltammetry 
Scanning electron microscopy 
Amperometry 
Electrocatalytic oxidation 
Electropolymerization 
Nanocomposite 
Greenhouse soil 
Notes
Acknowledgments
This work was supported by the National High Technology Research and Development Program (863 Program) of China (2012AA101405).
Compliance with ethical standards
Competing interest
All authors declare that no competing interests exist.
Copyright information
© Springer-Verlag Wien 2016