Magnetic restricted-access microspheres for extraction of adrenaline, dopamine and noradrenaline from biological samples
Abstract
Epoxy propyl bonded magnetic microspheres were prepared by atomic layer deposition using Fe3O4@SiO2 microspheres as a core support material. Then, a restricted-access magnetic sorbent was prepared that contains diol groups on the external surface and m-aminophenylboronic acid groups on the internal surface. This kind of microspheres achieved excellent specific adsorption of the ortho-dihydroxy compounds (dopamine, adrenaline and noradrenaline). Following desorption with sorbitol, the ortho-dihydroxy compounds were quantified by HPLC. The limits of detection for dopamine, adrenaline and noradrenaline were 0.074, 0.053 and 0.095 μg mL−1, respectively. Recoveries from spiked mice serum samples range from 80.2 to 89.1 %.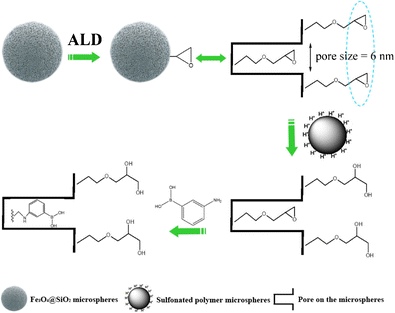 Keywords
Restricted-access materials 
Magnetic microspheres 
Boronic acid 
Solid-phase extraction 
Core-shell microspheres 
Fe3O4@SiO2 
Scanning electron microscopy 
Notes
Acknowledgments
This work was supported by the National Natural Science Foundation of China (Grant No. 81402899) and Shandong Provincial Natural Science Foundation, China (No. ZR2014HP020).
Copyright information
© Springer-Verlag Wien 2016