Magnetic matrix solid phase dispersion assisted dispersive liquid liquid microextraction of ultra trace polychlorinated biphenyls in water prior to GC-ECD determination
Abstract
Magnetic matrix solid phase dispersion (MMSPD) assisted dispersive liquid liquid microextraction (DLLME) was applied to extract ultra traces of polychlorinated biphenyls (PCBs) from water samples prior to gas chromatography with electron capture detection. PCBs in water were adsorbed by micro particles of magnetic bamboo charcoal and then transferred into the elution solvent. PCBs in the elution solvent of the MMSPD were further concentrated into trace volume extraction solvent of the DLLME procedure. Under optimized conditions, good linearity in the range of 0.2–100 ng L−1 was obtained with regression coefficients (r) higher than 0.9987. Based on a signal-noise ratio of 3, the limits of detection (LODs) range from 0.05–0.1 ng L−1. These LODs are much lower than those of MMSPD or DLLME alone. Relative standard deviations are between 4.9–8.2 %. The method was successfully applied to the determination of PCBs in lake and river water. Relative recoveries were 85.5–117.4 % for the spiked environmental water samples.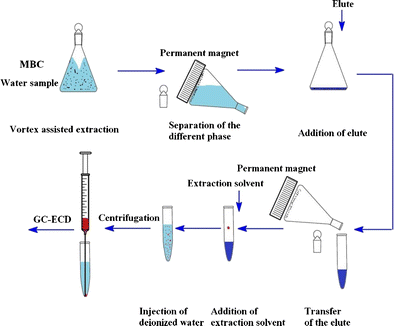 Keywords
Magnetic solid phase extraction 
Bamboo charcoal 
PCBs 
Water sample 
GC-ECD 
Notes
Acknowledgments
This work was supported by Program of National Natural Science of China (No. 31170110), Research Encouragement Foundation of Excellent Midlife-Youth Scientists of Shandong Province (No. BS2015HZ014).
Compliance with Ethical Standards
The author(s) declare that they have no competing interests
Copyright information
© Springer-Verlag Wien 2016