Conductometric gas sensors based on metal oxides modified with gold nanoparticles: a review
Abstract
This review (with 170 refs.) discusses approaches towards surface functionalizaton of metal oxides by gold nanoparticles, and the application of the resulting nanomaterials in resistive gas sensors. The articles is subdivided into sections on (a) methods for modification of metal oxides with gold nanoparticles; (b) the response of gold nanoparticle-modified metal oxide sensors to gaseous species, (c) a discussion of the limitations of such sensors, and (d) a discussion on future tasks and trends along with an outlook. It is shown that, in order to achieve significant improvements in sensor parameters, it is necessary to warrant a good control the size and density of gold nanoparticles on the surface of metal oxide crystallites, the state of gold in the cluster, and the properties of the metal oxide support. Current challenges include an improved reproducibility of sensor preparation, better long-term stabilities, and a better resistance to sintering and poisoning of gold clusters during operation. Additional research focused on better understanding the role of gold clusters and nanoparticles in gas-sensing effects is also required.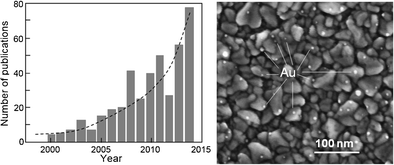 Keywords
Surface functionalizaton 
Stability 
Chloroauric acid 
Carbon monoxide 
Catalysis 
Cluster size 
Hydrogen 
Recovery time 
Operation temperature 
Spillover 
Oxygen 
Sensitization mechanism 
Notes
Acknowledgments
This work was supported by the Ministry of Science, ICT and Future Planning (MSIP) of the Republic of Korea, by the National Research Foundation (NRF) grants funded by the MSIP of Korea (Bank for Quantum Electronic Materials, Nos. 2011-0028736 and 2013-K000315), and partly by the Moldova Government under grant 15.817.02.29F and ASM-STCU project #5937.
Compliance With Ethical Standards
The author(s) declare that they have no competing interests
Copyright information
© Springer-Verlag Wien 2016