Fluorescent determination of poly(hexamethylene guanidine) via the aggregates it forms with quantum dots and magnetic nanoparticles
Abstract
The authors report that the cationic polymer-oligomer poly(hexamethylene guanidine) (PHMG) in the form of its hydrochloride induces the formation of mixed aggregates composed of anionic magnetiс nanoparticles (magNPs), PHMG and anionic quantum dots (QDs). The magNPs consisted of polymer-coated magnetite nanoparticles, and the QDs consisted of polymer-coated CdSe@CdS/ZnS nanoparticles with an emission maximum at 617 nm. This finding is exploited in a semi-quantitative method for the determination of PHMG. The protocol includes magnetic separation of the mixed aggregates (magNPs/PHMG/QDs) from the sample and excess QDs, redispersion of the aggregates in water, and measurement of fluorescence intensity. The signal is proportional to the concentration of PHMG in the 0.05 to 0.2 mg L−1 concentration range, with intra-day RSDs of up to 27 %. The limit of detection (LOD) of PHMG in spiked run-off waters, swimming pool water and wastewater is 23 μg L−1. This PHMG assay is selective in that high concentrations of surfactants and inorganic salts are tolerated. Polyethyleneimine and poly(diallyldimethylammonium chloride) also cause the formation of mixed aggregates but only at higher concentrations. Both a fluorometer and a digital camera (using a 365-nm LED as a light source) were used to measure fluorescence. In case of using a digital camera, the LOD is 40 μg L−1 and the intraday RSDs are up to 23 %. The method is sensitive, fairly selective and rather simple.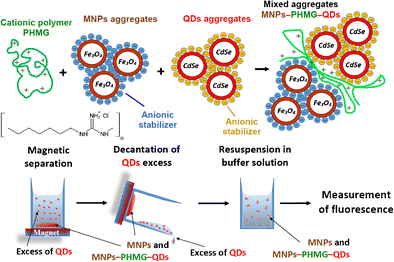 Keywords
Disinfectant 
Polymer-coated nanoparticles 
CdSe quantum dots 
Fe3O4 nanoparticles 
Transmission electron microscopy 
Dynamic light scattering 
Notes
Acknowledgments
Authors thank Russian Science Foundation for the financial support (grant No 14-23-00012).
Compliance with ethical standards
The authors declare that they have no competing interests.
Copyright information
© Springer-Verlag Wien 2016