Electrochemical aptasensor for tetracycline using a screen-printed carbon electrode modified with an alginate film containing reduced graphene oxide and magnetite (Fe3O4) nanoparticles
Abstract
The authors describe a label-free electrochemical aptasensor for tetracycline (TET). The TET-binding aptamer was immobilized on a composite consisting of reduced graphene oxide, magnetite (Fe3O4) and sodium alginate, and this material was used to modify the surface of a screen-printed carbon electrode (SPCE). Cyclic voltammetry was carried out to characterize the single steps in the preparation of the modified electrode and to optimize the conditions for detection. Differential pulse voltammetry (DPV) was then used to monitor the interaction between aptamer and TET by applying the electrochemical probe thionine. Under optimal conditions, TET can be quantified by DPV in the 1 nM to 5 μM concentration range, with a detection limit as low as 0.6 nM (at an S/N ratio of 3). The method is rapid, cost-efficient, highly sensitive and specific, and therefore is considered to be a viable platform for TET analysis in food, environmental, and clinical samples.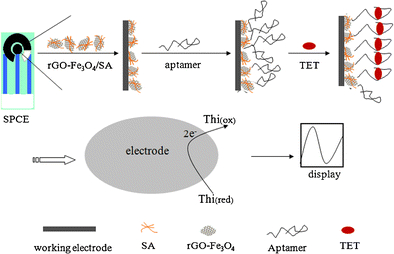 Keywords
Cyclic voltammetry 
Differential pulse voltammetry 
Scanning electron microscopy 
Transmission electron microscopy 
Sodium alginate 
Thionine 
Redox probe 
Notes
Acknowledgments
This work was supported by the National High Technology Research and Development Program ("863" Program) of China (No. 2012AA101405), Morningstar Fund of Shanghai Jiaotong University (No. 13X100010018), 1000-Talent Program (Recruitment Program of Global Expert, In Chinese: Qian-Ren-Ji-Hua) and Director Foundation of XTIPC, CAS (No. 2015RC012). We thank Kecheng Cao of Sichuan University for providing the rGO-Fe3O4 and helpful discussions. We also thank Bin Chen of Shanghai Jiaotong University for TEM, HRTEM and EDS analyses.
Copyright information
© Springer-Verlag Wien 2015