Silica-coated carbon dots conjugated to CdTe quantum dots: a ratiometric fluorescent probe for copper(II)
Abstract
The surface of CdTe quantum dots (Q-dots) was modified with thioglycolic acid (TGA) and these Q-dots were then covalently conjugated to amino-functionalized silica-coated carbon dots (C-dot@SiO2) via carbodiimide chemistry. The Q-dots form kind of "satellites" on the surface of the C-dot@SiO2 nanoparticles. The nanoparticle conjugates display dual emission (with peaks at 441 nm and 605 nm) under UV excitation and were further characterized by transmission electron microscopy, UV–vis absorption and FTIR spectroscopy. The C-dot@SiO2@Q-dots hybrid spheres are shown to represent a ratiometric fluorescent probe for Cu2+ in that the emission of the Q-dots is quenched by Cu2+, while the emission of the C-dots (which are coated with SiO2) is not quenched. The ratio of the fluorescence intensities at 441 and 655 nm is related to the concentration of Cu2+ in the range from 0.1 to 1.0 μM, with a 0.096 μM lower detection limit. The ratiometric probe was successfully applied to the determination of Cu2+ in (spiked) vegetable and fruit samples by the standard addition method, and recoveries ranged from 96.7 to 100.8 %.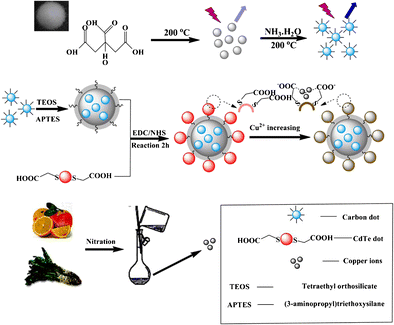 Keywords
C-dot@SiO2@Q-dots hybrid spheres 
Carbodiimide chemistry 
Dual emission 
TEM 
DLS 
Quenching 
Notes
Acknowledgments
This work was supported by a grant from the Two-Way Support Programs of Sichuan Agricultural University (Project No.03570113), the Education Department of Sichuan Provincial, PR China (Grant Nos. 13ZA0255).
Copyright information
© Springer-Verlag Wien 2015