Competitive binding of polyethyleneimine-coated gold nanoparticles to enzymes and bacteria: a key mechanism for low-level colorimetric detection of gram-positive and gram-negative bacteria
Abstract
The article describes a simple and rapid method for colorimetric detection of bacteria. It is based on competitive binding of positively charged polyethyleneimine-coated gold nanoparticles (PEI-AuNPs) to negatively charged enzymes and bacteria. The PEI-AuNPs are electrostatically attracted by both the bacterial surface and the enzyme β-galactosidase (β-Gal). Binding to the latter results in the inhibition of enzyme activity. However, in the presence of a large number of bacteria, the PEI-AuNPs preferentially bind to bacteria. Hence, the enzyme will not be inhibited and its activity can be colorimetrically determined via hydrolysis of the chromogenic substrate chlorophenol red β-D-galactopyranoside (CPRG). The detection limit of this assay is as low as 10 cfu·mL−1, and the linear range extends from 106 to 108 cfu·mL−1. The assay is applicable to both Gram-negative (such as enterotoxigenic Escherichia coli; ETEC) and Gram-positive (Staphylococcus aureus; S. aureus) bacteria. Results are obtained within 10 min using an optical reader, and within 2–3 h by bare-eye detection. The method was applied to the identification of ETEC contamination at a level of 10 cfu·mL−1 in spiked drinking water. Given its low detection limit and rapidity (sample preconcentration is not required), this method holds great promise for on-site detection of total bacterial contamination.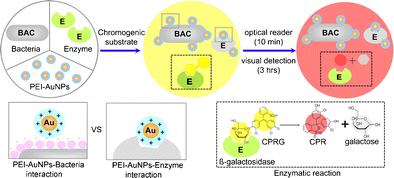 Keywords
Colorimetric bacteria detection 
Competitive assay 
Gold nanoparticles 
Notes
Acknowledgments
This research was supported by National Nanotechnology Center (NANOTEC), the National Science and Technology Development Agency (NSTDA), Thailand. Funding program number P1011227 and P1451182.
Copyright information
© Springer-Verlag Wien 2015