Oleate functionalized magnetic nanoparticles as sorbent for the analysis of polychlorinated biphenyls in juices
Abstract
Magnetic oleate-coated Fe3O4 nanoparticles were applied to the extraction of PCBs from fruit juices that were quantified by gas chromatography coupled to triple quadrupole mass spectrometry. Two methods were evaluated: The first method involves a two-step procedure that combines dispersive liquid-liquid microextraction with dispersive micro-solid phase extraction, and the second one involves magnetic solid-phase extraction (mSPE) carried out in a single step. The mSPE procedure is shown to be more sensitive, and therefore, it was optimized and applied to the analysis of PCBs in juices. The detection limits for all target PCBs are below 6 ng∙L−1 for apple juice, and 3 ng∙L−1 for grape juice. The enrichment factor is 125. Analysis of spiked fruit juice samples gave relative recoveries higher than 70 % for all PCBs except for PCB28 and PCB52.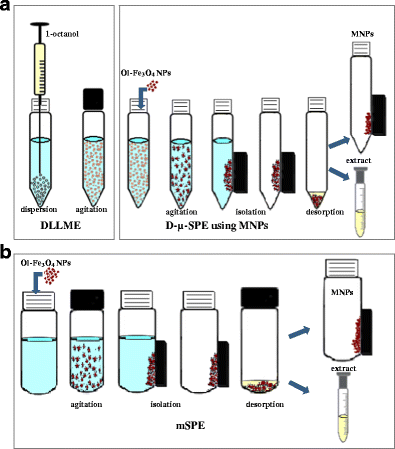 Keywords
Magnetic solid-phase extraction 
Magnetic nanoparticles 
Gas chromatography–tandem mass spectrometry 
Oleate coating 
Dispersive liquid-liquid microextraction 
Dispersive micro-solid phase extraction 
Notes
Acknowledgments
This study was financed by the Ministry of Science and Innovation-National Institute for Agricultural and Food Research and Technology, INIA, Project number "RTA 2011-00047-00-00". Authors wish to express their gratefulness to Dr. M.P. Morales, researcher of the Department of Biomaterials and Bioinspired Materials, and to the Scientific Technical Services of Infrared Spectroscopy (ICMM; CSIC) for her help and advice in the characterization of the MNPs and for the IR analysis, respectively. David Ibarra (INIA-CIFOR) is greatly acknowledged for FTIR analysis.
Copyright information
© Springer-Verlag Wien 2015