Removal of acidic interferences in multi-pesticides residue analysis of fruits using modified magnetic nanoparticles prior to determination via ultra-HPLC-MS/MS
Abstract
The authors describe magnetite (Fe3O4) nanoparticles modified with 3-(N,N-diethylamino) propyltrimethoxysilane (Fe3O4-PSA NPs) for use as a sorbent for dispersive solid phase extraction of pesticide residues. The Fe3O4-PSA NPs were prepared by silanizing Fe3O4 NPs and modifying them with 3-(N,N-diethylamino) propyltrimethoxysilane. Field-emission scanning electron microscopy, FTIR and zeta potential measurements were employed to characterize the modified NPs. They were then used as an adsorbent to remove acidic interferences (such as malic acid and succinic acid), which are major interferences in LC-MS/MS analysis in causing ion suppression in the MS spectra of pesticides. In addition, graphitized carbon black (GCB) was used as an adsorbent to eliminate interferences by pigments. The use of Fe3O4-PSA NPs can replace time-consuming centrifugation as used in the so-called QuEChERS (quick, easy, cheap, effective, rugged and safe) method. This improvement is particularly significant in high-throughput analysis. Following the optimization of the quantities of Fe3O4-PSA NPs and GCB, the method was applied to the determination of 56 pesticides in (spiked) fruits (apple, kiwi, orange and pear) by ultra-HPLC-MS/MS. The analytical ranges typically extend from 1 to 200 ng∙mL−1, and recoveries range from 60.2 to 130 % at different concentrations of all four kinds of fruits. The LOQs for the pesticides are 10 ng∙kg−1, which makes the method a viable tool for pesticide monitoring in fruits.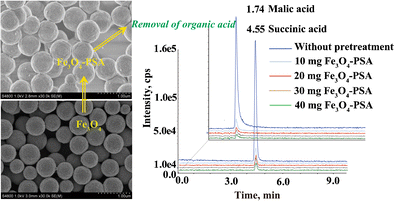 Keywords
Magnetite nanoparticles 
Dispersive solid phase extraction 
Pesticides residue 
Organic acid 
Ultra high performance liquid 
Chromatography 
Mass spectrometry 
Notes
Acknowledgments
This study was supported by grants from Zhejiang Provincial Natural Science Foundation of China (Grant No. LQ15B050001), the analysis and test foundation of Zhejiang Province (Grant No. 2014C37053), the Special Fund for Agro-scientific Research in the Public Interest (Grant No. 201503107-12) and the Ministry of Science and Technology of the People's Republic of China (Grant No. 2011AA100806).
Copyright information
© Springer-Verlag Wien 2015