Porous carbon derived from aluminum-based metal organic framework as a fiber coating for the solid-phase microextraction of polycyclic aromatic hydrocarbons from water and soil
Abstract
A nanoporous carbon derived from an aluminum-based metal-organic framework was deposited on stainless steel wires in a sol–gel matrix. The resulting fibers were applied to the solid-phase microextraction of the polycyclic aromatic hydrocarbons (PAHs) naphthalene, acenaphthene, fluorene, phenanthrene and anthracene from water and soil samples. The fiber was then directly inserted into the GC injector and the PAHs were quantified by GC-MS. The effects of salt addition, extraction temperature, extraction time, sample volume and desorption conditions on the extraction efficiency were optimized. A linear response to the analytes was observed in the 0.1 to 12 μg∙L−1 range for water samples, and in the 0.6 to 30 μg∙kg−1 for soil samples, with the correlation coefficients ranging from 0.9934 to 0.9985. The limits of detection ranged from 5.0 to 20 ng∙L−1 for water samples, and from 30 to 90 ng∙kg−1 for soil samples. The recoveries of spiked samples were between 72.4 and 108.0 %, and the precision, expressed as the relative standard deviations, is <12.8 %.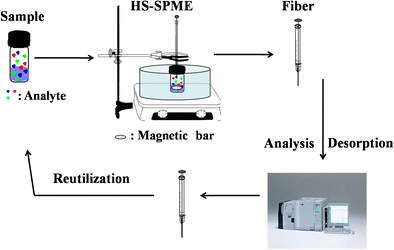 Keywords
Metal organic framework 
Nanoporous carbon 
Polycyclic aromatic hydrocarbons 
Solid-phase micro-extraction 
Gas chromatography–mass spectrometry 
Notes
Acknowledgments
Financial support from the National Natural Science Foundation of China (31171698, 31471643), the Innovation Research Group Program of Department of Education of Hebei for Hebei Provincial Universities (LJRC009) and the Natural Science Foundation of Hebei Province (B2012204028) is gratefully acknowledged.
Copyright information
© Springer-Verlag Wien 2015