Sensing nitric oxide with a carbon nanofiber paste electrode modified with a CTAB and nafion composite
Abstract
We describe an electrochemical sensor for nitric oxide that was obtained by modifying the surface of a nanofiber carbon paste microelectrode with a film composed of hexadecyl trimethylammonium bromide and nafion. The modified microelectrode displays excellent catalytic activity in the electrochemical oxidation of nitric oxide. The mechanism was studied by scanning electron microscopy and cyclic voltammetry. Under optimal conditions, the oxidation peak current at a working voltage of 0.75 V (vs. SCE) is related to the concentration of nitric oxide in the 2 nM to 0.2 mM range, and the detection limit is as low as 2 nM (at an S/N ratio of 3). The sensor was successfully applied to the determination of nitric oxide released from mouse hepatocytes.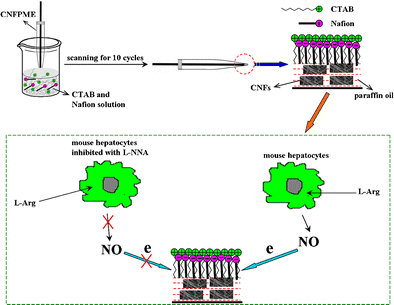 Keywords
Hexadecyl trimethyl ammonium bromide 
Nafion 
Carbon nanofibers 
Carbon paste electrode 
Nitric oxide 
Mouse hepatocytes 
Notes
Acknowledgments
This research is supported by the National Nature Science Foundation of China (Nos. 31070885; 61178087), the Fundamental Research Funds for the Central Universities, South-Central University for Nationalities (Nos. CZY14017; CTZ12001), the Scientific Research Team Project of South-central University for Nationalities (No. XTZ09002).
Copyright information
© Springer-Verlag Wien 2015