Sensing glucose based on its affinity for concanavalin A on a glassy carbon electrode modified with a C60 fullerene nanocomposite
Abstract
An ultrasensitive electrochemical glucose biosensor has been developed by depositing C60-fullerene functionalized with tetraoctylammonium bromide (C60-TOAB+) on the surface of a glassy carbon electrode (GCE). The glucose-binding protein concanavalin A (Con A) was then linked to the surface. Binding of glucose by Con A affects the electroactivity of the reversible redox couple C60/C60 −, and this finding forms the basis for a quantitative glucose assay over the 10 to 10 mM concentration range and with a lower detection limit of 3.3 nM (at an S/N ratio of 3). The sensitivity of this sensor allowed glucose to be determined in saliva. This biosensor possesses excellent selectivity, outstanding reproducibility and good long-term stability.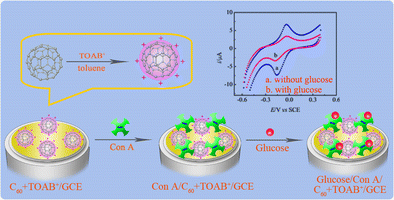 Keywords
C60-fullerene 
Tetraoctylammonium bromide 
Concanavalin A 
Redox couple 
Electrochemical biosensor 
Notes
Acknowledgments
This work was financially supported by the NNSF of China (21075100, 21275119, 21105081), Ministry of Education of China (Project 708073), Research Fund for the Doctoral Program of Higher Education (RFDP) (20110182120010), Natural Science Foundation of Chongqing City (CSTC-2009BA1003, CSTC-2011BA7003, CSTC-2010BB4121), State Key Laboratory of Silkworm Genome Biology (sklsgb2013012), the Fundamental Research Funds for the Central Universities (XDJK2013A008, XDJK2013A27, XDJK2013C115), and specialized research fund for the doctoral program of higher education (swu113029) and (20100182110015) China.
Copyright information
© Springer-Verlag Wien 2015