Highly sensitive hydrogen peroxide sensor based on a glassy carbon electrode modified with platinum nanoparticles on carbon nanofiber heterostructures
Abstract
We are presenting a sensor for hydrogen peroxide (H2O2) that is based on the use of a heterostructure composed of Pt nanoparticles (NPs) and carbon nanofibers (CNFs). High-density Pt NPs were homogeneously loaded onto a three-dimensional nanostructured CNF matrix and then deposited in a glassy carbon electrode (GCE). The resulting sensor synergizes the advantages of the conducting CNFs and the nanoparticle catalyst. The porous structure of the CNFs also favor the high-density immobilization of the NPs and the diffusion of water-soluble molecules, and thus assists the rapid catalytic oxidation of H2O2. If operated at a working voltage of −0.2 V (vs. Ag/AgCl), the modified GCE exhibits a linear response to H2O2 in the 5 μM to 15 mM concentration range (total analytical range: 5 μM to 100 mM), with a detection limit of 1.7 μM (at a signal-to-noise ratio of 3). The modified GCE is not interfered by species such as uric acid and glucose. Its good stability, high selectivity and good reproducibility make this electrode a valuable tool for inexpensive amperometric sensing of H2O2.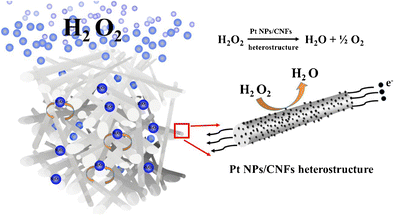 Keywords
Platinum nanoparticles 
Heterostructure 
Carbon nanofiber 
H2O2 sensor 
Hydrogen peroxide 
Notes
Acknowledgments
The work has been supported by the National Natural Science Foundation of China (No. 51203013, 21302013), the Natural Science Foundation of Jiangsu Educational Department of China (No. 12KJB610001), the Natural Science Foundation of Jiangsu Province (No. BK2012207), and the Foundation of Jiangsu Laboratory of Advanced Functional Material (No. 12KFJJ008).
Copyright information
© Springer-Verlag Wien 2015